Trump Courting Motorcycle Companies; China Warns Travelers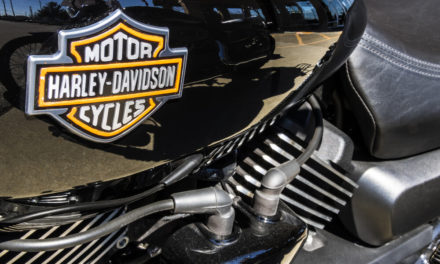 President Donald Trump says the administration is courting motorcycle companies that want to move to the U.S. after Harley-Davidson said it's moving some assembly overseas.
Harley-Davidson drew Trump's wrath last week after the manufacturer announced it's moving production of motorcycles sold in Europe to facilities outside the U.S. The company blamed the decision on tariffs imposed by the European Union to retaliate for tariffs Trump imposed on a host of EU products.
Trump says Tuesday on Twitter that Harley-Davidson customers aren't happy with the Milwaukee-based company's announcement. He also notes that sales were down 7 percent in 2017, but a sales drop last year cannot be attributed to Harley-Davidson's announcement last week.
Trump didn't name any motorcycle companies. The White House had no immediate comment.
Now that Harley-Davidson is moving part of its operation out of the U.S., my Administration is working with other Motor Cycle companies who want to move into the U.S. Harley customers are not happy with their move – sales are down 7% in 2017. The U.S. is where the Action is!

— Donald J. Trump (@realDonaldTrump) July 3, 2018
China Issues Warning for Citizens Traveling to US
China has issued a safety warning to its citizens traveling to the United States amid rising tensions between the sides over accusations of unfair trading practices and other disputes.
The warning issued late last week and posted on the website of the Chinese embassy in Washington touches on issues from the high cost of medical treatment in the U.S. to the importance of guarding against crime and terrorist attacks, and the powers wielded by Immigration and Customs Enforcement agents.
In Beijing, Foreign Ministry spokesman Lu Kang said Tuesday that China's government was merely fulfilling its duty to warn travelers of "potential dangers."
U.S. tariffs meant to punish China for allegedly unfair trading practices are due to take effect Friday. Friction has also grown over the South China Sea and Taiwan.
USVI: Oil Refinery to Reopen Under $1.4B deal with ArcLight
The U.S. Virgin Islands says it has reached a $1.4 billion deal to reopen one of the world's largest refineries in a move expected to boost the U.S. territory's economy.
Gov. Kenneth Mapp said Monday that private equity firm ArcLight Capital Partners LLC will restart a St. Croix refinery that closed in 2012. He said refinery operations will start in late 2019 with an estimated 200,000 barrels of crude oil to be processed daily. Mapp said revenues could top $600 million over the first 10 years and that hundreds of jobs will be created.
Legislators still have to vote on the deal that would see 50 percent of annual revenues go toward the island's public pension system. Mapp said remaining revenues will help build an upscale hotel in St. Thomas.
What's new for Amazon's Prime Day? Deals at Whole Foods
Amazon's Prime Day deals are coming to the aisles of Whole Foods as the online retailer seeks to lure more people to its Prime membership after a recent price hike.
This year's sales event, which starts July 16, will be six hours longer than last year's and will launch new products. Amazon hopes to keep Prime attractive for current and would-be subscribers after raising the annual membership fee by 20 percent to $119 and to $12.99 for the month-to-month option. Outside of Prime Day, Amazon has added special discounts for Prime members at its more than 460 Whole Foods U.S. stores and has been adding new TV shows and movies on its video streaming service.
"They want Prime to be a must-have membership," says Suzanne Tager, who heads Bain & Co.'s retail and consumer products practices.
Prime Day, created by Amazon in 2015 to mark its 20th anniversary, has inspired other e-commerce companies to invent their own shopping holidays. Online furniture seller Wayfair introduced Way Day in April, becoming its biggest revenue day ever. While Prime Day brings in more revenue for Amazon, too, it also helps boost its Prime memberships. It had more sign-ups during 2017's event than any other day in the company's history, Amazon said at the time, without providing specific numbers.
Report: Federal Facebook Probe Now Includes FBI, SEC
A federal probe into Facebook's sharing of user data with Cambridge Analytica now involves the FBI, the Securities and Exchange Commission and the Justice Department, the Washington Post reported.
Representatives from these agencies have joined the Federal Trade Commission in the inquiry, the newspaper reported, citing five unnamed people familiar with the matter. Those people spoke on condition of anonymity because the probes are not complete.
The probe reportedly centers on what Facebook knew in 2015, when it learned that the political data-mining firm Cambridge Analytica had improperly accessed the personal data of tens of millions of Facebook users. Facebook didn't disclose the incident with the political firm, which later worked for the Trump campaign and other Republican candidates, until this March.
The Post said the probe will look at why Facebook didn't inform users or investors earlier. Investigators are examining actions and statements of the company and its executives, including CEO Mark Zuckerberg, according to the report.
Facebook confirmed to The Associated Press that it has received questions from these agencies and said it is cooperating with the inquiry.
Representatives from the FBI and Justice Department did not immediately respond to a request for comment. An SEC spokesperson declined to comment. The FTC said in March it was looking into whether Facebook engaged in unfair acts that hurt consumers, and which might have violated a consent decree it reached with the FTC in 2011.
Facebook shares fell 1.2 percent in after-hours trading following the report Monday, after rising 1.6 percent in the regular session.
Anti-Tax Group Abandons Effort to Repeal Oklahoma Tax Hikes
Organizers of an effort to roll back tax increases approved by the Legislature to help fund a teacher pay raise say they're abandoning their effort.
Oklahoma Taxpayer Unite organizer Ronda Vuillemont-Smith said Monday the state Supreme Court's recent decision to toss out their ballot initiative didn't leave the group enough time to gather the 42,000 signatures they needed to place the question on the November ballot.
The anti-tax group led by ex-U.S. Sen. Tom Coburn was seeking a public vote to repeal tax hikes on cigarettes, fuel and energy production.
But the Supreme Court ruled a description of the proposal on signature pages was insufficient and that its ballot title is misleading. The court said the group would have to start over and gather new signatures by July 18.
© The Associated Press. All rights reserved.