Daily Stock Market Update — Friday, June 8th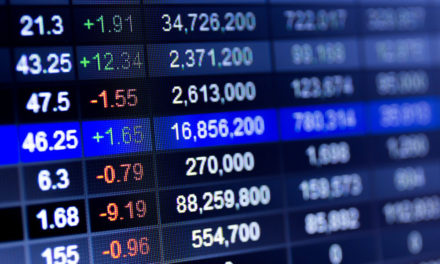 U.S. stocks are turning slightly higher Friday after small losses the day before. Household goods makers and health care companies are rising, but technology companies are taking small losses after they took their biggest drop in six weeks. Investors are treading cautiously as the Group of Seven summit gets started. Leaders from Canada and France say they will confront U.S. President Donald Trump over tariffs he is imposing.
KEEPING SCORE: The S&P 500 index added 4 points, or 0.2 percent, to 2,775 as of 1 p.m. Eastern time. The Dow Jones industrial average rose 60 points, or 0.2 percent, to 25,302 after a small gain on Thursday. The Nasdaq composite picked up 2 points to 7,637.
The Russell 2000 index of smaller-company stocks advanced 3 points, or 0.2 percent, to 1,671. Smaller and more U.S.-focused stocks like those on the Russell have fared better than the rest of the market in recent months as investors react to concerns about international trade. The Russell is up 8.9 percent this year and the S&P 500 is up 3.8 percent.
GROUP OF SEVEN: Leaders from the Group of Seven wealthy industrialized nations are meeting in Canada, where Trump's new tariffs on are expected to be a major focus. The White House is expecting a chilly reception from Canada and western European countries. The leaders of France and Canada in particular on Thursday expressed in tough terms their disapproval of the tariffs. Trump is expected to leave the summit before it officially concludes as he heads to Singapore ahead of his meeting with Kim Jong Un of North Korea.
ROAD TO RECOVERY: Consumer products makers, which have struggled for the last few months, rose for the second day in a row. Monster Beverage climbed 5.2 percent to $55.60 after its annual shareholder meeting. Stifel analyst Mark Astrachan said the company's sales growth is solid. He said the company plans to raise its U.S. prices later this year in response to higher aluminum prices following the tariffs.
Elsewhere, Tide maker Procter & Gamble gained 1.7 percent to $77.02. Cigarette maker Philip Morris International rose 2.6 percent to $79.38 after it raised its quarterly dividend, while Reuters said the company plans to start selling its tobacco-heating Iqos device in India, the second-most populous country in the world.
TECH TRIPPED UP: Technology companies declined further. Chipmaker Broadcom lost 2.1 percent to $257.14 after its sales forecast came in a bit lower than expected. Skyworks, another chipmaker, fell 2.8 percent to $99.65 while Apple lost 1.3 percent to $190.88.
On Thursday the technology index of the S&P 500 fell 1.1 percent, its biggest loss since late April.
ENERGY: Benchmark U.S. crude slid 0.4 percent to $65.70 a barrel in New York. Brent crude, used to price international oils, fell 1.1 percent to $76.49 per barrel in London.
Energy companies followed suit. Halliburton slumped 2.4 percent to $47.77 and Occidental Petroleum lost 1 percent to $84.88.
DISCONNECTED: Verizon headed lower after it said CEO Lowell McAdam will retire after seven years. He will remain chairman of the company, and chief technology officer and ex-Ericsson CEO Hans Vestberg will replace McAdam on August 1. The stock dipped 0.8 percent to $48.62.
EARNINGS: Online clothing retailer Stitch Fix jumped 15.4 percent to $22.70 after it beat Wall Street's expectations in its fiscal third quarter.
FUNTIME: Toymaker Funko continued to rally, climbing 4.3 percent to $11.79. The stock went public in November at $12 a share, but fell 50 percent through the end of 2017. It's up 77 percent this year.
BONDS: Bond prices were little changed. The yield on the 10-year Treasury note remained at 2.93 percent.
CURRENCIES: The dollar dipped to 109.50 yen from 109.71 yen. The euro fell to $1.1769 from $1.1809.
OVERSEAS: Germany's DAX was down 0.3 percent and so was the FTSE 100 index in Britain. The CAC 40 in France was little changed. Japan's benchmark Nikkei 225 shed 0.6 percent and South Korea's Kospi lost 0.8 percent. In Hong Kong, the Hang Seng slipped 1.9 percent.
© The Associated Press. All rights reserved