Daily Stock Market Update — Monday, June 11th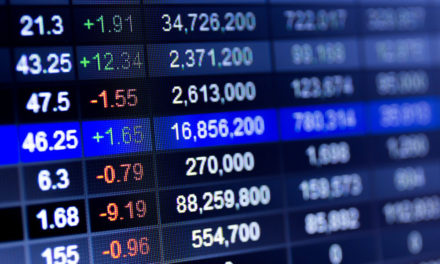 U.S. stocks were higher in afternoon trading Monday amid preparations for President Donald Trump's meeting with North Korean leader Kim Jong Un in Singapore.
KEEPING SCORE: The Dow Jones industrial average added 67 points, or 0.3 percent, to 25,384 as of 3:30 p.m. EDT. The Standard & Poor's 500 rose 10 points, or 0.4 percent, to 2,788 and the Nasdaq composite rose 29 points, or 0.4 percent, to 7,674.
NORTH KOREA TALKS: U.S. and North Korean officials were preparing for a meeting Tuesday between Trump and Kim aimed at settling the standoff over the North's nuclear arsenal. North Korea has reportedly said it is willing to deal away its entire nuclear arsenal if the United States provides it with reliable security assurances and other benefits. But many say Kim's government is unlikely to give up weapons that help guarantee its survival.
TRADE TENSIONS: Trump took more swipes at Canadian Prime Minister Justin Trudeau, contending that "Fair Trade is now to be called Fool Trade if it is not Reciprocal."
Trump roiled a weekend meeting of the Group of Seven major industrial economies by agreeing to a group statement only to rapidly withdraw from it while complaining about Trudeau's criticism of his tariff threats. After leaving Canada, Trump called Trudeau "dishonest" and "weak" on Twitter. German Chancellor Angela Merkel said she found Trump's tweet disavowing the G-7 statement "a little depressing."
ANALYST'S TAKE: "There's a lot of potential volatility that could come this week: We have the Trump-Kim summit and the central bank meetings," said Ryan Larson, head of U.S. equity trading at RBC Capital Markets. "A lot of the tone for this week will be set out in Trump's meeting with Kim."
EURO WATCH: Italy's markets jumped after the economy minister said the country's new populist government isn't considering leaving the eurozone or adding to the high public debt load. The statement was the strongest yet on the topic from an official in the new government. Markets fell sharply last month on worries that the new administration might consider pulling Italy out of the euro or weakening its role in the currency.
European markets closed broadly higher. Italy's main stock index jumped 3.4 percent, Germany's DAX rose 0.6 percent and France's CAC-40 index rose 0.4 percent.
ON FIRE: Utility company PG&E dropped $1.90, or 4.6 percent, to $39.56 after California authorities said a series of wildfires were caused by PG&E's equipment, raising liability implications for the company.
POSSIBLE BUYOUT: Boston Scientific jumped $2.23, or 6.8 percent, to $34.89 after The Wall Street Journal reported that that Stryker offered to purchase the medical device company. Stryker shares fell $8.55, or 4.8 percent, to $170.51.
CENTRAL BANKS: Looking ahead, investors are keeping an eye on key central bank meetings this week. The Federal Reserve wraps up two-day meeting on interest rates on Wednesday. Investors expect the nation's central bank to raise interest rates from their current level of 1.75 percent to 2 percent.
ENERGY: Benchmark U.S. crude closed up 36 cents to $66.10 per barrel in electronic trading on the New York Mercantile Exchange. Brent crude, used to price international oils, was unchanged at $76.46 per barrel in London.
© The Associated Press. All rights reserved