New AI Investing System Deems 1,918 Stocks High-Risk
Sell These 1,918
"Safe" Stocks Now!
For the very first time…
AI investing pioneer Adam O'Dell is unveiling his patent pending AI stock rating system to the general public.
Unfortunately, this unveiling is bittersweet.
His system just deemed over 1,900 stocks "bearish" or "high-risk."
Stocks with unfavorable ratings include:
These are stocks you should consider selling today if you happen to own them.
To be clear, this is just a mere sample.
In total, his system has rated 40% of ALL publicly traded stocks as bearish or high-risk.
That's why it's important you see Adam's new presentation right away.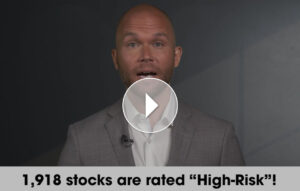 At the very least, you'll see how Adam used AI to accurately warn about Silicon Valley Bank, Carvana, Wayfair and Beyond Meat … months before these stocks crashed.
Even better, you'll also get the names of over one dozen more stocks — you'll want to avoid — that he's revealing free of charge.
Before you invest a single dollar in the markets — or make any investment decisions — I urge you to click here now.