Secret No. 4: Get Paid as You Grow Older (Hint: It's Not Social Security)
It's no secret that many of us are getting older…
In fact, by 2030, 1-in-5 Americans will be of retirement age.
Like I said, big surprise, right?
But what if I told you there's a simple, straightforward investment that will help you cash in on that fact … and collect dividends of up to 9.6%…
Talk about an opportunity that's too good to pass up… After all, we're all going to get older, so we might as well get rewarded for it, right…?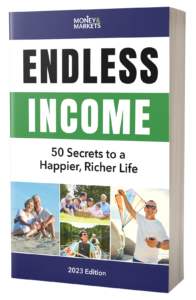 Income Secret No. 4 inside this new book, Endless Income: 50 Secrets for a Happier, Richer Life, will show you how.
It's just one of 50 income-boosting secrets revealed inside … secrets the ultra wealthy have been using to turbocharge their income for years.
And we'd like to send you a copy FREE.
Click here to see how you can claim your FREE copy now.
You must act fast though…
Only 850 copies are being offered for free today.
For more details on how to get your free copy, click here now.