In the latest Marijuana Market Update, I look at the mergers and acquisitions side of the cannabis market.
I also answer a reader's question about federal legalization in the U.S.
Cannabis' Explosive Retail Growth
First, let's examine legal cannabis sales: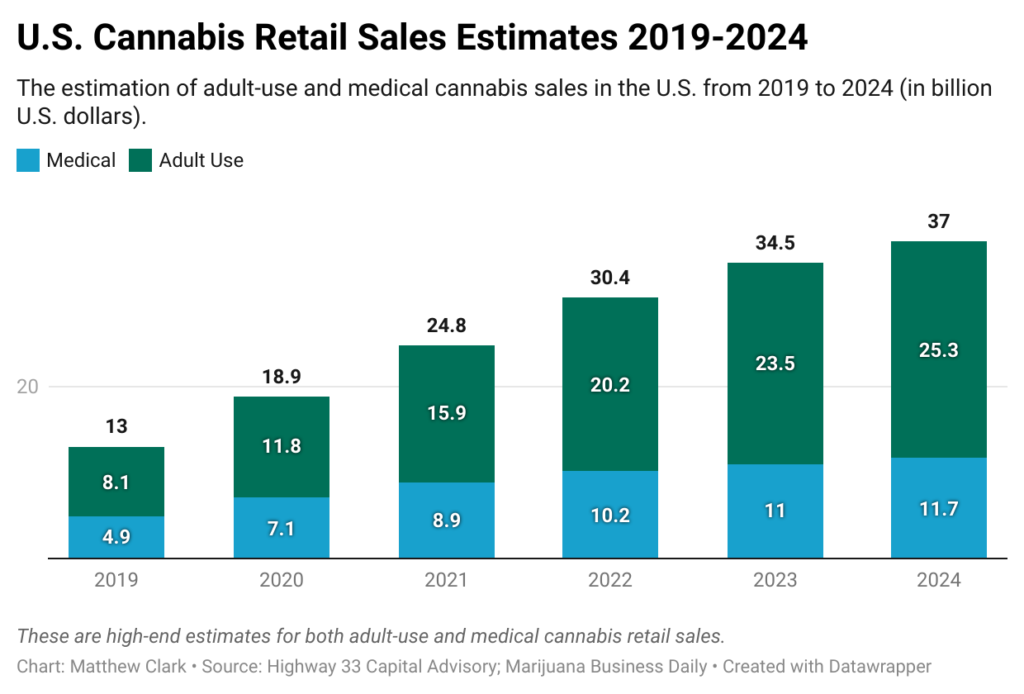 In 2019, legal cannabis sales in the U.S. were at around $13 billion — $4.9 billion for medical and $8.1 billion for adult recreational use.
The COVID-19 pandemic pushed those sales higher in 2020, with total legal retail sales at nearly $19 billion in the U.S. alone.
Projections from Marijuana Business Daily suggest the total legal market for cannabis sales will reach $37 billion by 2024 — a 184% increase from 2019.
The biggest boost comes from the recreational side of the business, with sales expected to go from $8.1 billion in 2019 to a whopping $25.3 billion in 2024 —a 212% jump in just adult-use sales.
Looking on a global scale, Germany's new coalition government recently announced a deal to legalize cannabis in Europe's largest economy. That should blow up the global legal cannabis market.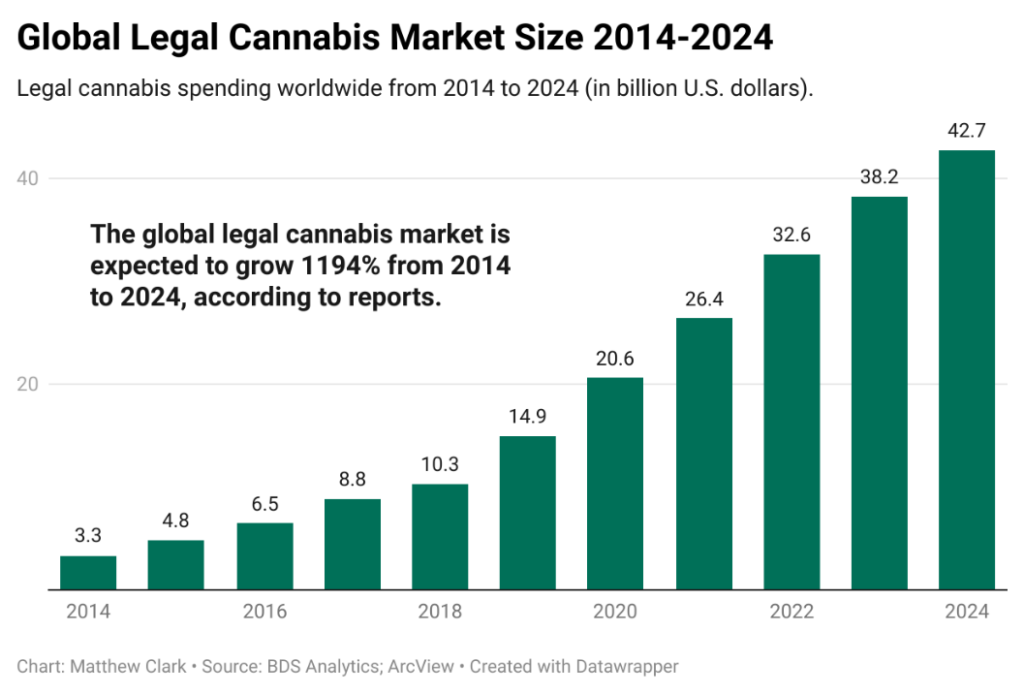 Projections from BDS Analytics indicate a $6.2 billion expansion in the legal cannabis market globally from 2021 to 2022 — even though Germany's cannabis infrastructure may not be fully established until 2023.
Expectations are that the global cannabis market will hit $42.7 billion by 2024 as more countries push for legalization and sales continue to grow.
All told, the global market is expected to expand nearly 1,200% from 2014 to 2024!
Cannabis Mergers & Acquisitions
This current and prospective growth is putting a spotlight on cannabis mergers and acquisitions in the cannabis marketplace.
According to New Frontier Data, through the third quarter of 2021, the year has been rife with companies looking to enter new markets, expand operations or get their hands on intellectual property through M&A deals.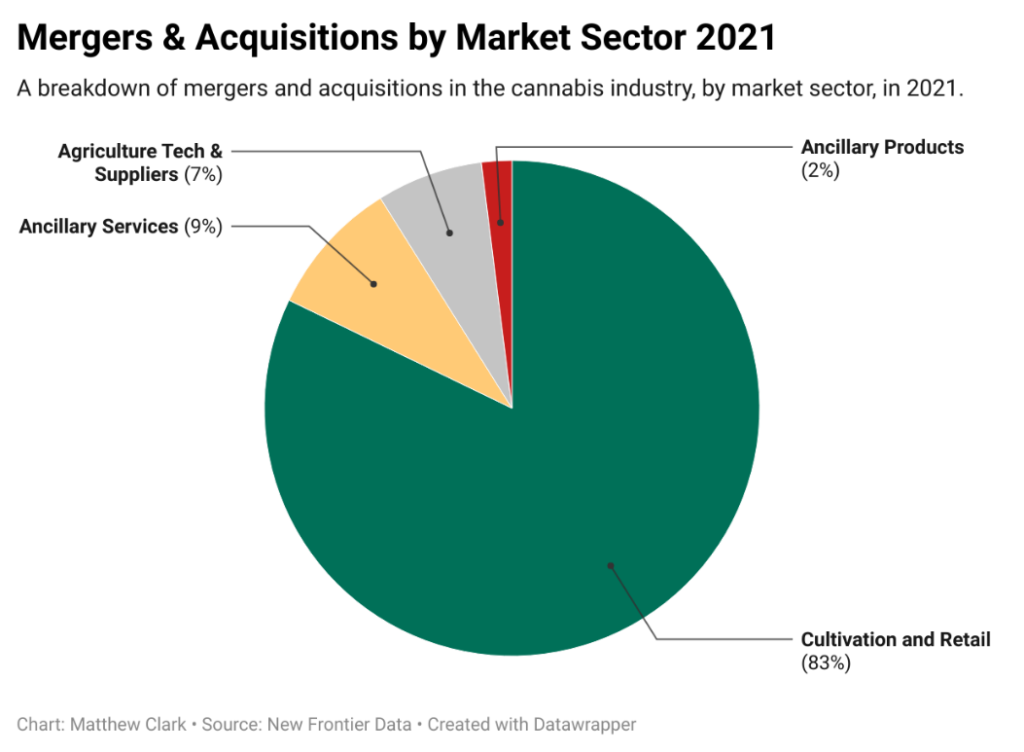 Many of the M&A deals involved cultivation and retail (or plant-touching) operations. These include:
Tilray's $2.4 billion purchase of Aphria in April.
Trulieve's $2.3 billion acquisition of Harvest Health and Recreation in October.
AYR Strategies' $198 million purchase of Garden State Dispensary.
Cresco Labs' Cultivate Licensing in September.
Nearly all of the top 10 M&A deals in the cannabis space in 2021 included plant-touching operators.
And I don't think this trend is going to slow down.
As a cannabis investor, if you are looking to profit from a potential M&A takeover, it would be prudent to find a company that either has U.S. operations or is a Canadian-licensed producer. The trend suggests this is where M&A money is going.
What typically happens is when a merger or acquisition is announced, the company being bought sees its share price go up while the company making the purchase sees its share price go down — that's not always the case, but it's more the rule than the exception.
With sales expected to increase in the U.S. and internationally, companies involved in either retail, cultivation or both are prime targets for M&A activity in the cannabis space heading into 2022.
There is a lot of money in the cannabis market yet to be made, and smaller operators in the U.S. will continue struggling to scale their operations to get a slice of that pie … especially if the U.S. market opens wider in the coming years.
This makes those smaller operators prime targets for larger players … but it could also be a great situation for smart investors to cash in on upcoming cannabis mergers.
Viewer Mailbox Response: The SAFE Act
Last week, I shared some insight into the state of the cannabis market in 2021. I received an interesting question on YouTube from James. He wrote:
Spot on insight as always, Matt. As a morose CCHWF bag-holder, I needed to hear this. Would like your feedback on this Weedstock Reddit post:

Everyone needs to take 5 minutes and call (Sens.) Booker and Schumer and implore them to get SAFE passed now! What's going on in Oakland will spread like COVID to other cities and states, and MSOs will be helpless as millions of their product and cash walk out the door. Many dispensaries in Colorado are cutting store hours due to understaffing. Why? Because people just don't want to work. Criminals know where the green is, and you can expect to see rashes of bank-style hold-ups resulting in valuable employees quitting for their safety, and rightly so.

Weed investors: Do not wait until the mayhem really kicks in. Get on the phone now!
As I told James in my response, there is a lot to unpack here.
Let's start with Oakland, California. During the week of November 15, more than 25 licensed marijuana businesses were robbed, costing the businesses up to $5 million and leading the marijuana business community in Oakland to ask state officials for "tax amnesty," according to Marijuana Moment.
Specifically, the non-profit group Supernova Women have asked the state to repeal the cannabis cultivation tax and cut the excise tax imposed on marijuana products.
One activist suggested that Oakland cannabis companies pay 6% in taxes while non-cannabis companies pay 0.12% — a 600% difference.
While I agree that this is a wide difference, you have to understand that a big selling point, politically, to legalizing cannabis is the amount of tax revenue it can bring into a state or local entity.
With sales reaching all-time highs, it suggests that consumers are not turned off by paying higher taxes for legal cannabis.
Also, California does not require excise and sales taxes on stolen goods. That said, it is tough for any business to recover $5 million in stolen potential revenue.
This leads us to the SAFE Act, currently being debated as part of the National Defense Authorization Act, in the U.S. Senate.
The SAFE Act would essentially allow legal cannabis companies to operate under normal business banking procedures, just like any other business, without any penalties assessed to banks.
Banks could give cannabis companies lines of credit rather than forcing them to apply year after year for loans.
The connection here is that $5 million in losses would be an easier pill to swallow because a cannabis company could draw on a line of credit to help recoup those losses.
The U.S. House attached the SAFE Act to the almost automatic NDAA, expecting an easier road to passage. However, Schumer and Booker — both advocates of legalizing marijuana — have put a serious damper on that as they want to pass social justice reform either before or along with banking regulation related to cannabis.
A bipartisan group of senators — including several on the Senate Armed Services Committee (the committee responsible for advancing the NDAA to the full floor of the Senate) — wrote a letter asking for the inclusion of the SAFE Act in the NDAA.

Despite the letter, Finance Committee Chair Sen. Rob Ryden (D-Oregon), along with Schumer and Booker, are holding to the course of passing more comprehensive reform before addressing banking related to cannabis.
The Takeaway
With the midterm elections of 2022 leaving control of the House and Senate up in the air, if Congress were to pass any kind of relief for cannabis businesses, the time is now.
However, suggesting flooding Schumer and Booker with calls isn't a worthwhile effort for cannabis advocates. That said, I would never discourage you from calling your elected officials and attempting to express your views.
I do agree that taking a baby step approach to cannabis reform — like passing the SAFE Act without more comprehensive reform — is much better than trying to pass everything.
It's certainly better than doing nothing … which is what is happening now.
If you have a question about a cannabis stock or the market, just email me at Feedback@MoneyAndMarkets.com. Send us a question and you can get free Money & Markets gear.
Where to Find Us
Coming up this week, we'll have more on The Bull & The Bear podcast, so stay tuned.

And check out our Ask Adam Anything video series, where we ask any question to chief investment strategist Adam O'Dell, as well as our Investing With Charles series, in which our expert Charles Sizemore and I discuss the trends you write in to ask about.
Also, you can follow me on Twitter (@InvestWithMattC), where I'll give you even more insights, not just in the cannabis market.
Safe trading,

Matt Clark, CMSA®
Research Analyst, Money & Markets
Matt Clark is the research analyst for Money & Markets. He is a certified Capital Markets & Securities Analyst with the Corporate Finance Institute and a contributor to Seeking Alpha. Prior to joining Money & Markets, he was a journalist and editor for 25 years, covering college sports, business and politics.