Is a classic summer pastime making a comeback?
After the COVID-19 pandemic decimated attendance, Global Market Insights projects the movie theater market to grow at a compound annual growth rate of 4.9% to more than $100 billion in 2032.
And with the heat index hitting 107 degrees on the regular down here in South Florida, the near-freezing temperatures of a dark cinema sound pretty good right now…
I'm running with this idea in today's Stock Power Daily. And what's so great about Adam O'Dell's Green Zone Power Ratings system is that you can do the same.
If a trend pops into your head, find some related stocks and plug them into Adam's system at www.MoneyandMarkets.com. Just look for the search bar, or this big button on the homepage:

Type in the ticker or company name, and you'll know if it's set to crush the broader market by 3X over the next year, or underperform and drag your overall gains down with it.
And with summer blockbuster season hitting its stride, let's see how these movie stocks stack up using Green Zone Power Ratings.
Can Mattel Ride the Barbie Wave?
Now, I understand that Mattel Inc. (Nasdaq: MAT) may not be the first stock to come to mind when thinking about movie theaters. But I was curious if the hype surrounding the Barbie film could be a tailwind for the toymaker. The stock is up more than 15% over the last month…
But Green Zone Power Ratings paints an ugly picture for MAT's future.
Mattel stock rates a "High-Risk" 16 out of 100 in Adam's system. That means it is set to significantly underperform the broader market over the next 12 months.
While MAT's recent momentum has been impressive, the stock has traded flat if you expand out to one year. And it hasn't been a smooth ride. You can see why it rates a 39 on Momentum and a 28 on Volatility by looking at its chart below.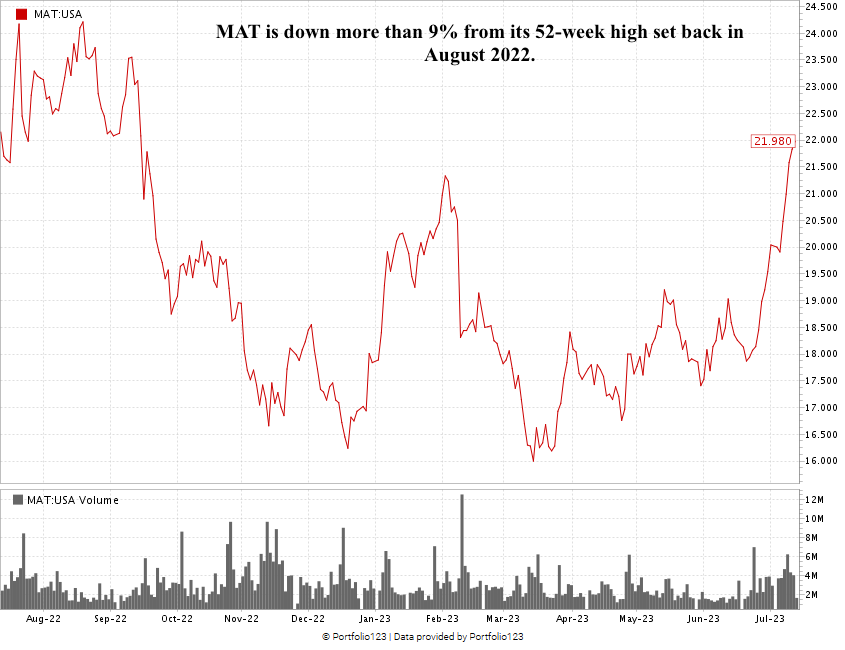 It scores lowest on Growth in Adam's system. And its recent earnings tell you why. Mattel's revenue for the first quarter of 2023 is 21% lower than it was in the same quarter a year ago. Its net profit margin has tanked 734% to -13%!
Green Zone Power Ratings shows it's going to take more than Margot Robbie and Ryan Gosling's neon-washed summer blockbuster to sustain the recent rally…
Is Good Momentum Enough for Cinemark?
Let's move on to a more typical movie theatre stock: Cinemark Holdings Inc. (NYSE: CNK).
The theatre chain has spread across the U.S. over the last 35 years, including two locations in our area of Palm Beach County.
Like most of its competition, Cinemark has expanded its movie-going options to include luxury seating, alcoholic beverage options and a more expansive food menu to get moviegoers back in its cinemas.
But CNK stock is still in a rough spot, according to Green Zone Power Ratings.
CNK has been on fire this year. It's up more than 88% year to date! Like Matt mentioned yesterday with Boeing, though, investing in a stock on Momentum alone is a dangerous game.
With low scores on the other five factors, the bottom is starting to fall out again for Cinemark. It has lost 12% of its value over the last month alone.
Why settle for a stock with shaky fundamentals on the off chance you hit it big when you can use Green Zone Power Ratings to find a company with much healthier prospects?
Which brings me to one last stock…
Sony: A Diversified Movie Stock
I've only seen one movie this summer: Spider-Man: Across the Spider-Verse.
It's actually the first movie I saw in theaters since the pandemic hit. And wow! It reminded me why we have movie theaters in the first place.
The booming soundtrack and incredible visuals just can't be replicated at home. And now I'm planning even more date nights with my wife to see Indiana Jones, the aforementioned Barbie and even Gran Turismo later this summer.
*Ahem* Back to Green Zone Power Ratings…
This Spider-flick falls under the Sony Pictures umbrella, much to Disney's chagrin, so let's see how Sony Group Corp. (NYSE: SONY) rates in Adam's system.
SONY boasts a "Bullish" 66 out of 100 rating, which means it's set to outperform the broader market by 2X over the next year.
It also has healthy ratings on Momentum (85) and Volatility (68), and the stock has managed to climb 21% higher this year.
It's also a strong Value stock with a 75 rating on that factor.
A big reason is SONY's price-to-earnings ratio is 16.4. The average of its industry peers is more than 41.
SONY's other price-to ratios (sales, cash flow and book value) are all lower than the computer hardware industry averages.
And Sony also benefits from being a well-diversified company with an established presence in multiple industries such as movies, video games, electronics and music. That makes it a great play not just on a summer movie season revival, but all kinds of entertainment media that people enjoy every day.
That's a wrap on my Green Zone Power Ratings analysis this week.
Remember, if an investing idea pops into your mind, go to www.MoneyandMarkets.com and start plugging in stocks to see how they rate.
With a little creative thinking, you may be surprised by what you find.
Have a great weekend!
Until next time,

Chad Stone
Managing Editor, Money & Markets