In November 2020, biotech analysts could not get enough of one particular stock after the company got a big break from the Food and Drug Administration (FDA).
At the time, the FDA ruled it had enough evidence to support approval of Biogen Inc.'s (Nasdaq: BIIB) experimental Alzheimer's drug.
On Monday, the government approved aducanumab, better known as Aduhelm.
The announcement sent Biogen's stock through the roof. It jumped as much as 60% before cutting some of those gains.
Biogen Stock Trades Flat Before FDA Announcement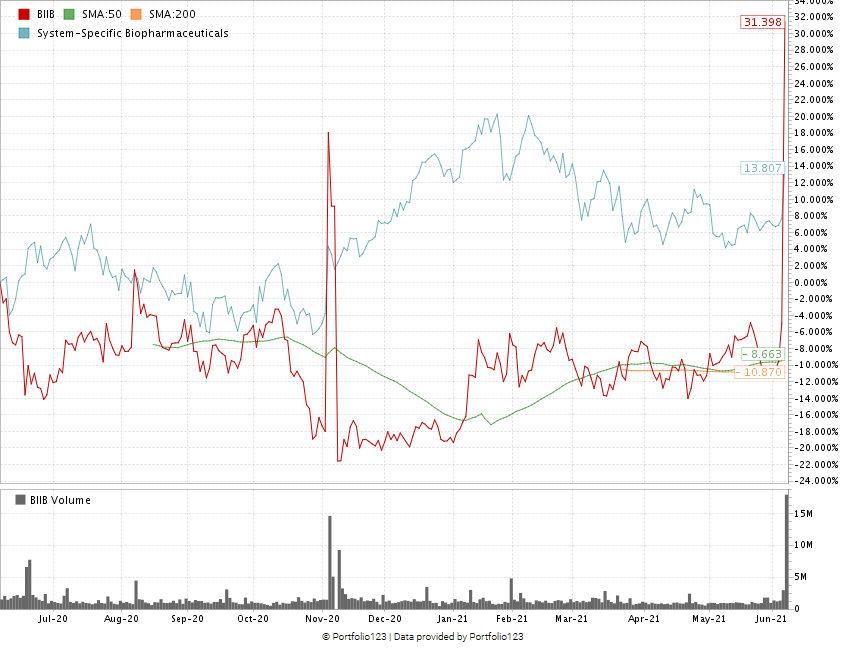 Headwinds for Biogen Stock
However, the approval came with two huge caveats:
An outside panel of experts did not endorse the treatment. It described the data shown during drug trials as "unconvincing."
Biogen executives said they would charge $56,000 per year for the new treatment — five times more than expectations.
In this episode of The Bull & The Bear, I examine the approval of this Alzheimer's treatment and what it means for Biogen and the broader biotech industry. I also tell you whether Biogen's stock is a buy or not after this big news.
The Health of Biotech
One way to gauge the growth of the biotech sector is to examine indexes around it.
The first I look at is the Nasdaq Biotechnology Index, or NBI.
The NBI contains Nasdaq-listed securities classified as either biotechnology or pharmaceuticals.
Nasdaq Biotechnology Index Hits High in February 2021
From June 2020 to February 2021, the index saw solid gains. It posted a new high in early February.
Since, it has pared some of those gains, but the index is still valued higher than before mid-January 2021.
I'm going to share my view on what Biogen's approval means for the broader biotech sector and tell you whether Biogen is a buy.
Pro tip: Chief investment strategist Adam O'Dell is bullish on biotech. I urge you to check out Adam's presentation on what he calls "Imperium." He's confident this DNA trend has the potential to be bigger than internet stocks in the '90s. Click here for details on how to access Adam's top four DNA stocks to buy today.
The Bull & The Bear
Led by Adam O'Dell and a team of finance journalists, traders and experts, Money & Markets gives you the information you need to protect your nest egg, grow your wealth and safeguard your financial well-being.
You can listen to The Bull & The Bear on Apple Podcasts, Spotify, Amazon and Google Podcasts. Make sure to subscribe and leave us a review.
Be sure to also subscribe to our YouTube channel for more videos like my weekly Marijuana Market Update.
Have something you want us to talk about? Email thebullandthebear@moneyandmarkets.com and give us your thoughts.
Check out moneyandmarkets.com, and sign up for our free newsletters that deliver you the most important and unbiased financial news, commentary, and actionable advice.
Also, follow us on:
Facebook
Twitter
LinkedIn
Safe trading,

Matt Clark, CMSA®
Research Analyst, Money & Markets
Matt Clark is the research analyst for Money & Markets. He is a certified Capital Markets & Securities Analyst with the Corporate Finance Institute and a contributor to Seeking Alpha. Prior to joining Money & Markets, he was a journalist and editor for 25 years, covering college sports, business and politics.