In this episode of The Bull & The Bear, we tell you where we think biotech stocks are headed after the recent tech sell-off.
Biotech stocks were once the darling of the stock market.
The SPDR Biotech Fund Index (NYSE: XBI) tracks companies focused on developing therapeutics and using genetics. The fund rose 70% from May 2020 to February 2021.
Biotech Index Reaches New High in 2021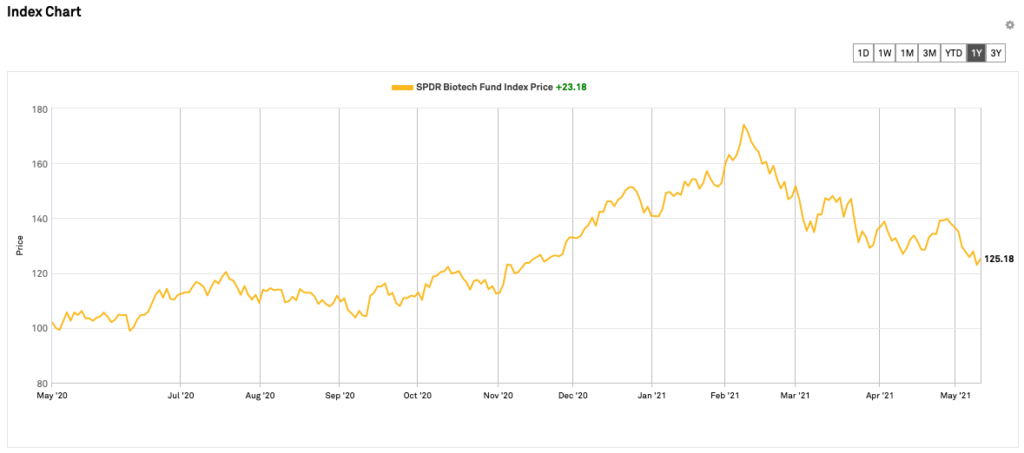 But, since February, investor sentiment in the biotech industry has cooled and prices have fallen nearly 30%.
Does this present a buy opportunity?
In today's episode of The Bull & The Bear, Adam O'Dell, Charles Sizemore and I look at the biotech industry and give you our take on where it's heading.
Biotech's Drop Isn't All Bad
As you can see from the chart above, XBI dropped nearly 30% after reaching a high in February.
But there are other forces at play here than just investor sentiment moving away from the broader tech sector.
The Federal Trade Commission recently announced a joint working group with Canadian, European and U.K. agencies to examine pharmaceutical mergers.
The prospect of tougher regulations in the pharma market is a cause for concern with biotech and pharma investors.
But remember, President Joe Biden has said he wants to increase the nation's spending on biotech and pharma research.
This should have a positive impact on biotech and pharma stocks in the future.
And that's just one reason to be excited about this industry's future.
In this episode of The Bull & The Bear, we'll tell you where we think biotech stocks are headed in 2021 and beyond.
Pro tip: Chief investment strategist Adam O'Dell and Green Zone Fortunes co-editor Charles Sizemore are bullish on biotech. They just revealed their latest biotech stock recommendation this week in May's monthly Green Zone Fortunes issue. I urge you to check out Adam's presentation on what he calls "Imperium." He's confident this DNA trend has the potential to be bigger than internet stocks in the '90s. Click here to find out more. If you subscribe to Green Zone Fortunes today, you'll find out how to get in on the ground floor with Adam and Charles' next biotech recommendation.
The Bull & The Bear
Led by Adam O'Dell and a team of finance journalists, traders and experts, Money & Markets gives you the information you need to protect your nest egg, grow your wealth and safeguard your financial well-being.
You can listen to The Bull & The Bear on Apple Podcasts, Spotify, Amazon and Google Podcasts. Make sure to subscribe and leave us a review.
Be sure to also subscribe to our YouTube channel for more videos like my weekly Marijuana Market Update.
Have something you want us to talk about? Email thebullandthebear@moneyandmarkets.com and give us your thoughts.
Check out moneyandmarkets.com, and sign up for our free newsletters that deliver you the most important and unbiased financial news, commentary, and actionable advice.
Also, follow us on:
Facebook
Twitter
LinkedIn
Safe trading,

Matt Clark
Research Analyst, Money & Markets
Matt Clark is the research analyst for Money & Markets. He's the host of our podcast, The Bull & The Bear, as well as the Marijuana Market Update. Before joining the team, he spent 25 years as an investigative journalist and editor — covering everything from politics to business.