Despite some bumps in the road, it's been a strong year for the stock market.
All three major indexes climbed higher out of the gate, followed by a downturn into March. Stocks rose again into summer, traded flat, sank through October and are now ripping higher again as inflation seemingly cools.
Year to date, all three indexes are in the black:
Nasdaq 100 ETF (QQQ

): +44%.
S&P 500 ETF (SPY

): +17%.
Dow Jones Industrial Average ETF (DIA

): +5%.
In the last three weeks alone, all three funds are up between 6% and almost 11%.
Logic suggests the recent upturn in the market would lead to a positive swing in broader market sentiment.
Today, I'm going to share some research that suggests bullish sentiment in the market isn't where you might think.
Investors Are Still on the Fence
The American Association of Independent Investors (AAII), is a nonprofit corporation that aims to help individuals manage their assets using education and research.
Every week, the AAII performs an investor sentiment survey of its members to gauge investors' mood toward the market.
Investors indicate whether they are "bullish," "bearish" or "neutral" on the future of the market.
Here are the results of the survey dating back to June 2023:
A positive reading of the Consumer Price Index, the closely tracked inflation indicator, pushed more investors into the bullish category at the beginning of November.
The percentage of market bulls is back where it was in June but still lower than it was in July.
More investors remain bearish on the market than in June, July and into August.
Drilling down to the last four weeks paints an interesting picture:
After a jump in bullish sentiment following the most recent CPI report, the following week's survey was telling.
Bullish sentiment went up around 100 basis points. But curious enough, bearish sentiment went up by the same amount.
Bearish and neutral investors still outnumber bulls, despite the latest market run-up.
What this tells me is, while positive sentiment is up, there's still not an overwhelming amount of confidence in the market.
Quarterly Reports Shed Light on Sentiment
Stocks rise and fall based on quarterly earnings reports.
A great report can send a stock higher, while bad or even lackluster earnings and sales can send a stock south in a hurry.
According to FactSet, more than 80% of S&P 500 companies have reported third-quarter 2023 earnings and 82% of those companies have beat analyst estimates.
The average stock price of those companies has increased 0.8% two days before through two days after earnings calls.
However, companies reporting weaker earnings have triggered average sell-offs of 5.2% during the same time period.
Investors are hammering stocks with weaker earnings and not overly rewarding stocks that come in above earnings estimates.
Plus, analysis by Bloomberg shows analysts are not serving up "atta boy" compliments to companies after strong quarters as much as before: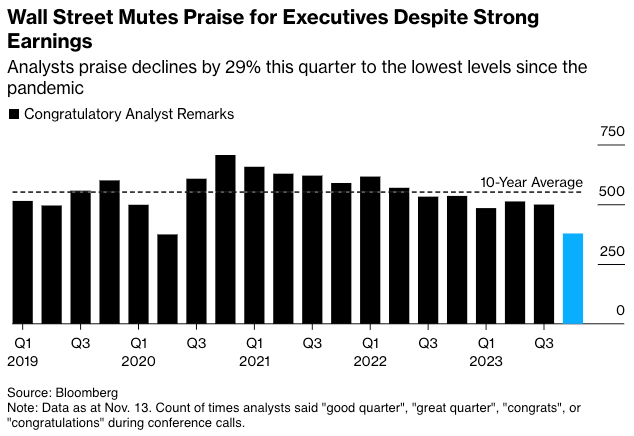 This data, coupled with the AAII sentiment survey results, leads me to believe there is a significant amount of concern for investors heading into 2024.
Outside factors like a looming presidential election, inflation uncertainty, global conflict and signs of weakening consumer demand are causing headwinds in market sentiment.
So while the market is climbing higher, investors remain on the fence about their expectations for the next year.
Of course, my colleague Mike Carr can operate in any market conditions.
And his brand-new strategy aims to find the No. 1 Nasdaq stock to trade each month — no matter what the broader market is doing.
If you want to see how, click here.
Stay Tuned: What's Next for the Housing Market
Tomorrow, Adam O'Dell is going to take a closer look at the housing market now that mortgage rates are cooling again.
He has reason to believe a certain market segment is becoming one of 2024's biggest market mega trends.
Until then…
Safe trading,

Matt Clark, CMSA®
Chief Research Analyst, Money & Markets