In today's Marijuana Market Update, I discuss the benefits of federal legalization to investors like us and provide an update on our new Money & Markets Cannabis Index.
So, let's start today with legalization.
Legalization Talks: Effect on Investors and Cannabis IPOs
We've talked about Senate Majority Leader Chuck Schumer's (D-New York) recent draft legislation. It could be a boom for the cannabis market, but it's important to keep perspective.
As I said in our first YouTube live chat the other day, this was just a draft, and nothing's been filed. Reception has been lukewarm, so we haven't seen a big push in cannabis stock prices.
However, it doesn't mean we won't see developments in that area. I think we'll see cannabis stock prices go up like they did in February.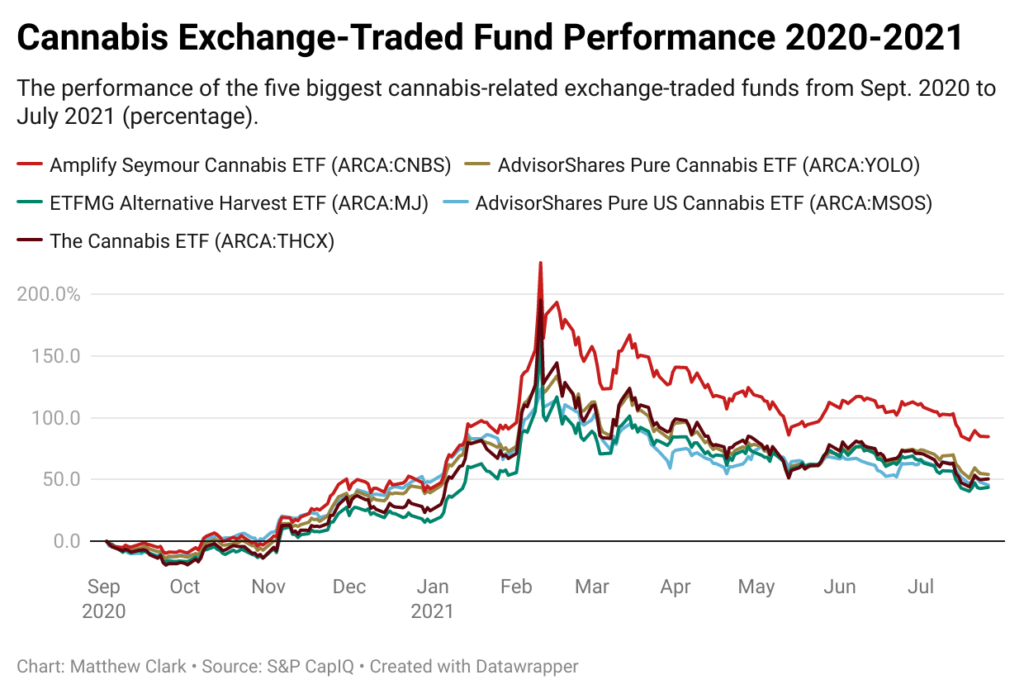 As you can see in the chart above, I pulled info from the five biggest cannabis exchange-traded funds.
Their February performance coincides with federal legalization talks.
They rose without legalization happening, though, so nothing suggests that cannabis stocks won't rise again.
But that shouldn't stop us from asking, "What if?"
Legalization May Trigger a Cannabis IPO Rush
If legalization passes — in whatever framework — we will see changes in the cannabis market.
Cannabis companies will have a much easier time acquiring funds from U.S. banks — which means they can incur debt for operation expansion (something they have a very difficult time doing now).
And that means growth.
I think it also means we'll see many private cannabis companies move to the public market. Initial public offerings are hot assets for investors. Look for more cannabis IPOs in the future.
Renaissance IPO ETF (Red): +48%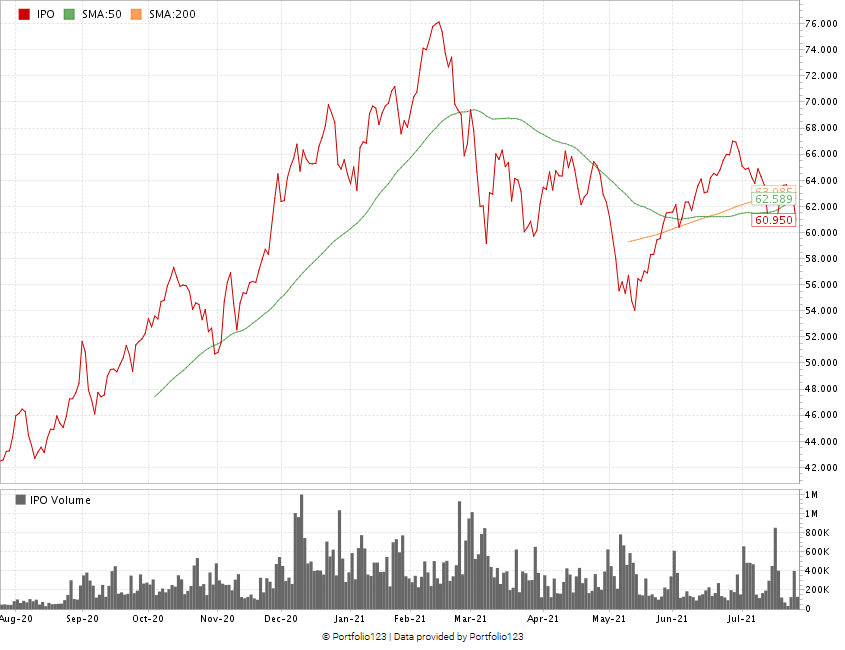 This is the stock chart for the Renaissance IPO ETF (NYSE: IPO), which tracks the price movement of IPOs fresh on the market.
As of right now, that index is up 48% over the last 12 months. Compare that to the 35% gain for the S&P 500, and you can see that IPOs are hot. Cannabis IPOs may surge onto the market in 2022.
Also consider that the U.S. is not the only place a private cannabis company can go public. We often forget about the Canadian markets, despite cannabis being legal in Canada.
The bottom line: As a cannabis investor, you shouldn't throw up your hands because recent talk of U.S. federal legalization has stalled.
You'll still find plenty of opportunities for growth in the cannabis market. The key is knowing where to find them. And that's what we help you do.
Speaking of which, I'm preparing to add another stock to our Cannabis Watchlist. The performance of the list is a positive 22% thus far, with several top performers up well over 50% in just a few months.
If you want to know more, I encourage you to join our membership community, where I share weekly updates about the watchlist. Members find out first when I add a new stock.
Cannabis Index: Up 6% This Week
Now, let's talk about our proprietary Money & Markets Cannabis Index.
I rolled this out a couple of weeks ago as a way to track the broader cannabis market. The index tracks cannabis companies with market caps over $10 million.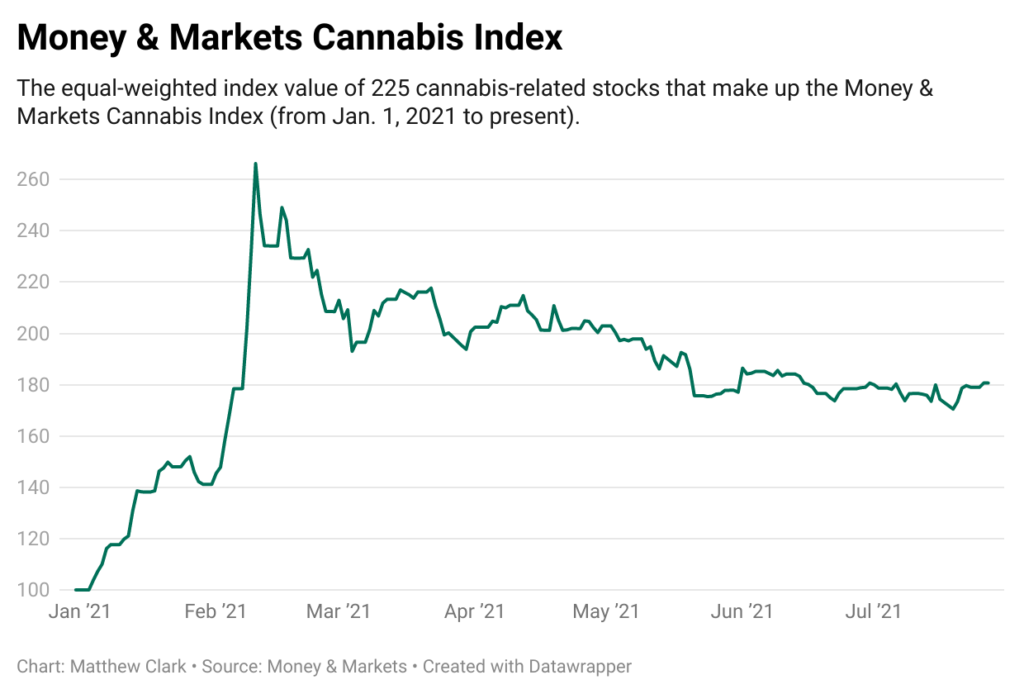 According to my latest scan, 225 companies meet the criteria of market capitalization and being listed on either a major U.S. exchange or over-the-counter. After reaching a high point in February, the index fell about 32.3% to where it is today.
The good news here is that the index has moved up about 6% since July 19. It's not a massive uptrend for the broader market, but it's not indicating a big drop either.
This index gives you, a cannabis investor, a different look at how the broader cannabis market is performing from one day to the next.
I update this index every week and let you know its performance here in the Marijuana Market Update.
If you do have a question about a cannabis stock or the market, just email me at feedback@moneyandmarkets.com or leave a comment on YouTube.

Finally, I encourage you to join our membership program on YouTube.
We offer members exclusive content, including:
Interviews with cannabis insiders.
Blog posts, stock analysis and company breakdowns.
More content related to our Cannabis Watchlist.
Monthly live chats with me, where we'll discuss cannabis stocks, the cannabis sector and much more.
I even unveiled another tool you can use to help point you in the right direction for cannabis stock investments.
Just click "Join" on our YouTube page to find out what you can access by joining.
Where to Find Us
Coming up this week, we'll have more on The Bull & The Bear podcast, so stay tuned.

Don't forget to check out our Ask Adam Anything video series, where we ask any question to chief investment strategist Adam O'Dell.
Green Zone Fortunes co-editor Charles Sizemore's weekly series is called Investing With Charles. Every week, he and I record our conversation about the investing topics that you want to hear more about.
You can follow me on Twitter (@InvestWithMattC), where I'll give you even more insights, not just in the cannabis market.
Remember, you can email my team and me at feedback@moneyandmarkets.com — or leave a comment on YouTube. We love to hear from you!
Safe trading,

Matt Clark, CMSA®
Research Analyst, Money & Markets
Matt Clark is the research analyst for Money & Markets. He is a certified Capital Markets & Securities Analyst with the Corporate Finance Institute and a contributor to Seeking Alpha. Prior to joining Money & Markets, he was a journalist and editor for 25 years, covering college sports, business and politics.