While the rest of the market is seemingly humming along, Big Bank stocks and the broader financial sector have stalled out.
We can at least partially thank the Federal Reserve's rapid interest rate hikes. As Mike said last week, we're no longer in the "easy money" era. And that's weighing on America's biggest financial institutions.
Year to date, the Financial Select Sector SPDR Fund (NYSE: XLF) — a basket of financial stocks — is trading negative while the S&P 500 has gained nearly 15%.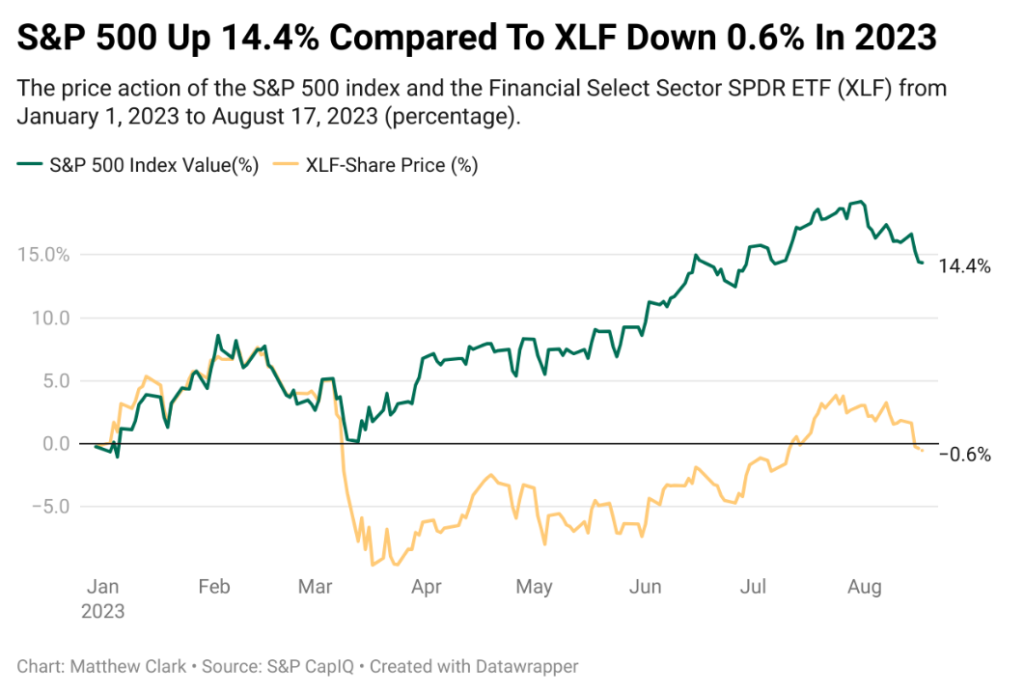 That got me thinking about how Big Bank stocks rate within Adam O'Dell's proprietary Green Zone Power Ratings system…
See, this is what's so great about Adam's system. If an investing idea pops in your head, you can knock out initial research on stocks related to that idea within minutes.
All you have to do is go to our homepage, or just look for the search bar at the top of this page, and start typing stock tickers or company names into the search bar.
You'll then get a snapshot of how a stock is set to perform over the next 12 months — from "High-Risk" laggards (rated 0 to 20 on Adam's 100-point scale) all the way up to "Strong Bullish" market crushers (rated 81 to 100).
Let's go ahead and do that today using Big Banks as our focus…
Wells Fargo Can't Keep Up
There's been some recent shake-up amongst America's financial system. Fitch Ratings, an agency responsible for assessing the industry's health, is now threatening a downgrade on dozens of banks after lowering the U.S. long-term credit rating earlier this month.
And Wells Fargo & Co. (NYSE: WFC) is one institution that could be affected in a major way.
By following Green Zone Power Ratings, you can see that WFC stock is in a tough spot.
Wells Fargo stock rates a "Bearish" 32 out of 100 in Adam's system. That means it's expected to underperform the broader market over the next year or so.
To be clear, this doesn't mean that Wells Fargo's stock price will crash and the bank is going to fail like Lehman Brothers in 2008. Green Zone Power Ratings is just showing you that WFC is a stock to avoid if you're looking for healthy profits in your investment portfolio.
That's reflected in its Momentum rating of 44. While the S&P 500 has gained 15% this year, WFC has lagged behind with measly 3% gains over the same span of time. That means you're much better off just throwing your money in an index fund.
On top of that, it's been a rocky ride for Wells Fargo stock since January 1. The stock rose from around $42 to $48.50 in mid-February before crashing to $36 amid the banking crisis earlier this year. Then it rose to $47 at the end of last month, before sinking back to its current level around $42.50.
Talk about a swingy stock! That's why it carries a 42 rating on the Volatility factor.
Why buy a volatile stock that can't even keep up with the broader bull rally?
The King of Big Bank Stocks?
I was determined to find one Big Bank that was rated an A- or higher on Fitch's long-term scale. For reference, the firm's scale of investment grade banks goes like this: AAA, AA+, AA, AA-, A+, A, A-, BBB+, BBB, BBB-. Anything BB+ and lower is considered "below investment grade."
After plugging 11 tickers into Green Zone Power Ratings, I came up with one that rated above 50. And I wrote about it when I first started showing you how easy Adam's system is to use in May.
I'm talking about JPMorgan Chase & Co. (NYSE: JPM), which now rates a "Strong Bullish" 84 out of 100. Strong Bullish stocks are set to outperform the broader market by 3X over the next 12 months.
JPM boasts "Bullish" or better ratings on five of Adam's six factors. It gets dinged on Size due to its $436 billion market cap (we generally expect smaller stocks to have a better shake at beating the market).
JPMorgan crushed earnings expectations last month. It brought in $42.4 billion in revenue, a 34% increase from the previous quarter, when analysts expected $38.9 billion. Earnings per share were reported at $4.37 versus $4 expected. That's contributed to its solid 83 rating on the Growth factor.
It's clear that JPM is thriving amid this higher interest rate environment as it brings in more lending revenue. And that's why Green Zone Power Ratings shows this stock should outperform from here.
Overall though, it's clear that the financial sector isn't chock full of JPMorgans. Major ratings agencies are sounding the alarm, and we've already watched four banks fail earlier this year.
And this is something Adam has warned about for months now.
He's even targeting a broader fallout with one trade because he's found 282 institutions that could join the likes of Silicon Valley Bank, First Republic Bank and Signature Bank in the coming months and years.
If you want to know more about this "off Wall Street trade," click here.
Until next time,

Chad Stone
Managing Editor, Money & Markets