Media on Alert: Recession Worse Than The Great Depression Coming In 2020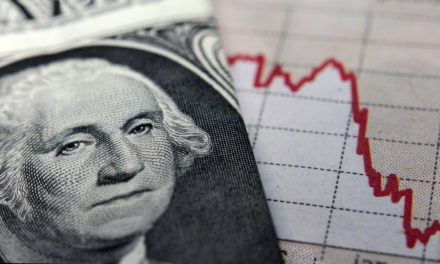 With the stock markets facing extreme volatility this week, major media networks are proclaiming the end of days is nigh — but not until late 2020.
This week's swoon saw the Dow Jones lose 1,300 points between Wednesday and Thursday, the S&P 500 losing 5 percent and the VIX, which measures how worried traders are about the decline, hitting its highest levels since February when the S&P had its last correction, losing 10 percent of its value.
Mainstream media outlets are now warning that the next recession will be "worse than the Great Depression."
Related: These five charts prove that the stock market is on the cusp of crashing by 70%, maybe more.
Here is a roundup put together by The Economic Collapse of what some of the major outlets are saying:
The next recession could put the 2008 financial crash to shame if two experts' predictions about the worldwide debt of $247 trillion are correct.

Expected to hit the United States within the next two years, the impact has been compared to the severe worldwide economic crisis which started 1929 and last until 1939.
"We think the major economies are on the cusp of this turning into the worst recession we have seen in 10 years,"said Murray Gunn, head of global research at Elliott Wave International.

"Should the [US] economy start to shrink, and our analysis suggests that it will, the high nominal levels of debt will instantly become a very big issue."
Two-thirds of business economists in the U.S. expect a recession to begin by the end of 2020, while a plurality of respondents say trade policy is the greatest risk to the expansion, according to a new survey.

About 10 percent see the next contraction starting in 2019, 56 percent say 2020 and 33 percent said 2021 or later, according to the Aug. 28-Sept. 17 poll of 51 forecasters issued by the National Association for Business Economics on Monday.
Total real estate sales in Manhattan fell 11 percent in the third quarter compared with a year ago, marking the fourth straight quarter of double-digit declines, according to new data from Douglas Elliman Real Estate and Miller Samuel Real Estate Appraisers & Consultants. It was also the first time since the financial crisis that resales of existing apartments fell for four straight quarters.

Prices fell, inventory jumped and discounts were higher and more common. Real estate brokers say the Manhattan real estate market is suffering from an oversupply of luxury units, a decline in foreign buyers and changes in the tax law that make it more expensive to own property in high-tax states.
Also from CNBC:
"Offers 20 percent and 25 percent below asking prices began to flow in, a phenomenon last seen in 2009," wrote Warburg Realty founder and CEO Frederick W. Peters in the report, which surveys real estate conditions around the city.

Warburg's report dovetails with separate data showing a definitive cooling in New York's housing market. The number of homes for sale in the city recently hit a record, according to StreetEasy data, amid fewer sales transactions. Meanwhile, September's report from real estate firm MNS showed Manhattan apartment rental prices — the most expensive in the city — on the decline.
Earlier this week, Verizon confirmed that it offered a voluntary severance package (VSP) to about 44,000 employees and that it will transfer over 2,500 IT staff – some rumors suggest the figure to be closer to 5,000 employees – to India-based Infosys as part of a $700 million outsourcing deal.

The layoffs and transfers will impact more than 30% of Verizon's 153,100-employee workforce – as of the end of June – and are part of a 4-year plan to save the largest U.S. wireless carrier $10 billion by 2021.
Editor's Note: With the market overdue for a massive correction, if you have a 401(k), IRA or any money in stocks, it's critical you watch this presentation today to prepare for what lies ahead.