Electric vehicles (EVs) are the future, and many companies are capitalizing on this mega trend. Is Nio stock (Nasdaq: NIO) one to buy in 2023?
The Chinese electric car manufacturer, Nio, has been making waves in the auto industry.
Some call it the "Tesla of China" due to its focus on developing luxury EVs for the Chinese market.
What sets Nio apart from other EV manufacturers is its high-end technology, innovative designs and ambitious plans for the future.
But does that mean investors have enjoyed massive gains holding Nio stock?
Let's take a closer look at what makes Nio such a unique company and its outlook for 2023.
Nio's Business Model
Nio is focused on delivering premium luxury EVs to the Chinese market.
Its business model involves a mix of selling cars directly to consumers as well as providing mobility services through its app.
In addition to this, it also offers battery-as-a-service plans that allow customers to lease batteries instead of buying them outright.
These features have helped it gain a loyal customer base in China and beyond.
Nio's Future Outlook
Despite facing some struggles due to the COVID-19 pandemic in 2020, Nio was able to bounce back with an impressive increase in sales in 2021 and is now one of the top EV producers in the world.
It is expected that by the end of 2023, Nio will continue to grow exponentially as more people become interested in EVs. More governments around the world are also expected to invest in renewable energy sources.
In addition to this growth potential, there are also several potential partnerships that could help propel Nio even further into the future.
For example, its has a partnership with Mobileye — a company specializing in autonomous driving technology — to develop Level 4 self-driving cars. They have started testing these vehicles in Germany.
This could lead to even more growth opportunities for Nio down the road if successful.
But things haven't paid off quite yet for Nio stock if you go by our proprietary system.
Nio Stock Power Ratings
Nio stock rates a "High-Risk" 1 out of 100. That means our system expects the stock to underperform the broader market over the next 12 months.
That's one of the worst ratings of more than 8,000 that our system analyzes!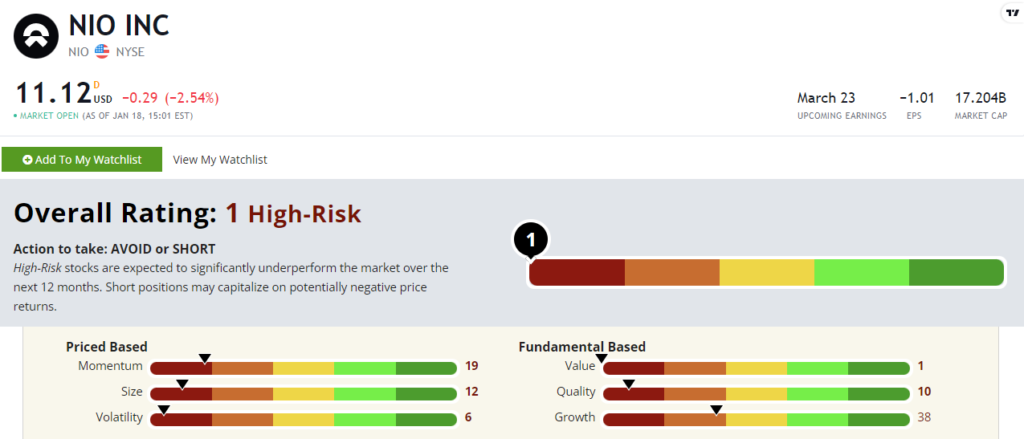 Nio had a rough 2022. Nio stock lost 70% of its value over the year as it faced many headwinds:
COVID restrictions in China.
Potential economic slowdown in its home country.
And reduced overall demand for EVs.
That's why NIO only rates a 19 out of 100 on our momentum factor.
Its low ratings on our fundamental factors mirror many innovative tech stocks.
Low growth and quality due to cashflow issues. And low value factor scores because investors bid the share price up in hopes of future growth.
Bottom Line: Overall, Nio is an exciting company with tremendous potential for growth as the market share for EVs expands.
But for now, Nio stock is one to avoid if you follow our Stock Power Ratings system.
Are you holding on to NIO for dear life, or do you have a different way you are playing the EV mega trend? Tell us about it in the comments below!