I read an interesting article about artificial intelligence (AI) last week.
Researchers used the popular AI chatbot ChatGPT to take the three-part U.S. Medical Licensing Exam — the same tests medical students take to become doctors.
Without any specialized training, the AI program either passed or came close to passing all three exams.
It shows just how far AI tech has come … and what its potential can be.
That may be most true in the health care field.
But with our Stock Power Ratings system, you can see that, while AI tech has a long runway ahead of it, some AI-related stocks are not buys now.
After a Strong 2020, AI Stocks Have Struggled
Over the last 12 months, the First Trust Nasdaq Artificial Intelligence & Robotics ETF (NYSE: ROBT) has fallen 22.6%.
For reference, the S&P 500 is only down 11.6% over the same time.
One AI-related stock that has struggled even more is Medtronic PLC (Nasdaq: MDT).
This Irish-based medical devices company developed the only approved AI software used for colonoscopies.
But its stock hasn't benefited from this innovation yet.
MDT stock scores a "High-Risk" 18 out of 100 on our Stock Power Ratings system. We expect it to underperform the broader market over the next 12 months.
Let's see why MDT is in a tough spot right now.
Medtronic Stock: Subpar Value + Poor Growth
I love to highlight a company's positive company financials.
But MDT, as I mentioned, has struggled:
In its most recent quarterly call, the company reported revenue of $7.6 billion — a 3% drop from the same period a year ago.
Revenue from its surgical innovations division declined 7% year over year.
That shows why MDT scores a 22 on growth.
The stock also underperforms on our value factor … where it scores a "Bearish" 32.
Price-to-(earnings, sales, cash flow and book value) ratios for stocks in the general medical devices sector are already high.
MDTs are lower but the stock is still overvalued along with its peers.
As you can see by the red line below, MDT stock is down 22.7% over the last 12 months.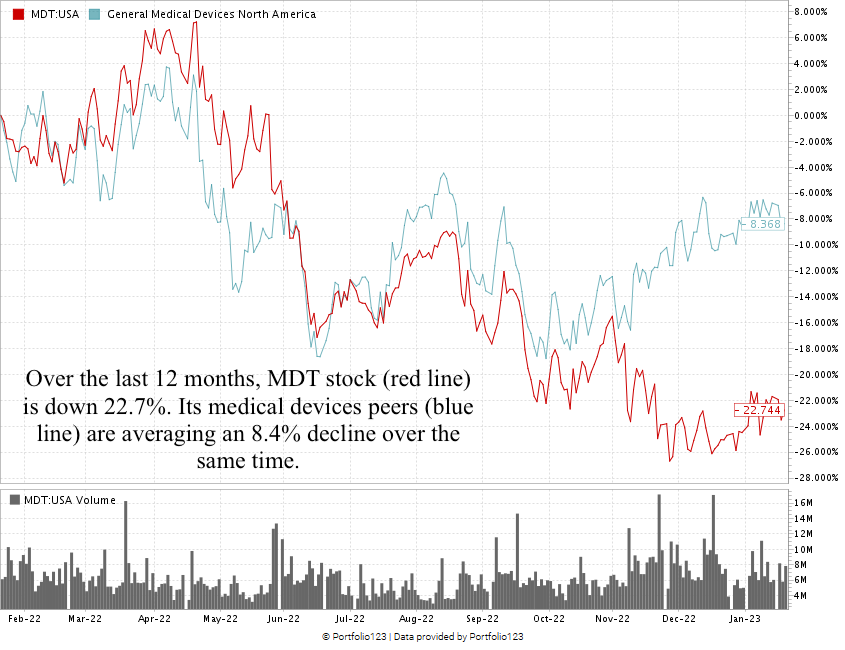 Its general medical devices peers dropped an average of 8.4% over the same time, shown by the blue line.
Medtronic stock scores an 18 overall on our proprietary Stock Power Ratings system.
That means we consider the stock "High Risk" and expect it to underperform the broader market.
The health care industry is finding new uses for AI at a rapid pace.
But, our Stock Power Ratings system tells us that, while AI innovations will continue, not all stocks within the trend are investable.
Medtronic stock has weak growth, lackluster value and poor momentum … making it a stock to avoid.
Stay Tuned: An Automation Powerhouse
Tomorrow, we're returning to our original Stock Power Daily form.
Stay tuned: I'll share all the details on a company that captures the power of automation amid the Fourth Industrial Revolution.
Safe trading,

Matt Clark, CMSA®
Research Analyst, Money & Markets
P.S. I'd love to hear what you thought about my "Stock to Avoid" article today. Was it valuable? Would you like us to continue sharing high-risk stocks on occasion, so you know what to stay away from?
Would you prefer that we only share "Bullish" and "Strong Bullish" stocks?