My wife recently filled our Jeep's gas tank and came home giddy.
"It was only about $40 to fill up," she exclaimed.
My first thought was: only???
When we bought the Jeep in 2020, it cost about $30 to fill up the gas tank.
But now we're excited when that cost is only $40.
I believe this happiness will be short-lived … and I'll tell you why.
Enjoy Lower Gas Prices Now Because It Won't Last
There's one person I trust when it comes to looking at oil and gas prices.
His name is Patrick De Haan, and he's the head of petroleum analysis at GasBuddy.com — a website that tracks nationwide gas prices.
I've interviewed Patrick numerous times and think there's no better source to go to when you want to know about gas prices.
I always take notice when he produces an outlook for gas prices like the one he sent out on Twitter earlier this week:
He's telling us that gas prices were at their lowest point last month and will start to climb now. And those prices won't subside any time soon.
Here's where average gas prices stand now:
Federal Reserve Bank of St. Louis' data shows the average price of a gallon of gas is around $3.38 right now.
It's well below the recent peak of $5 in mid-2022, but you can see that gas prices have been trending higher since December (more on that below).
And De Haan's research says it's only getting higher. Here's why…
Biden's Strategic Oil Reserves Folly and More!
In order to push down gas prices last year, President Joe Biden tapped into the Strategic Oil Reserves.
This is the largest publicly known emergency supply of oil in the world. Tanks in Louisiana and Texas can hold up to 714 million barrels of oil in the event of an emergency.
But take a look at what that drawdown has done to the U.S. emergency supply:
Strategic Oil Reserves Hit 40-Year Lows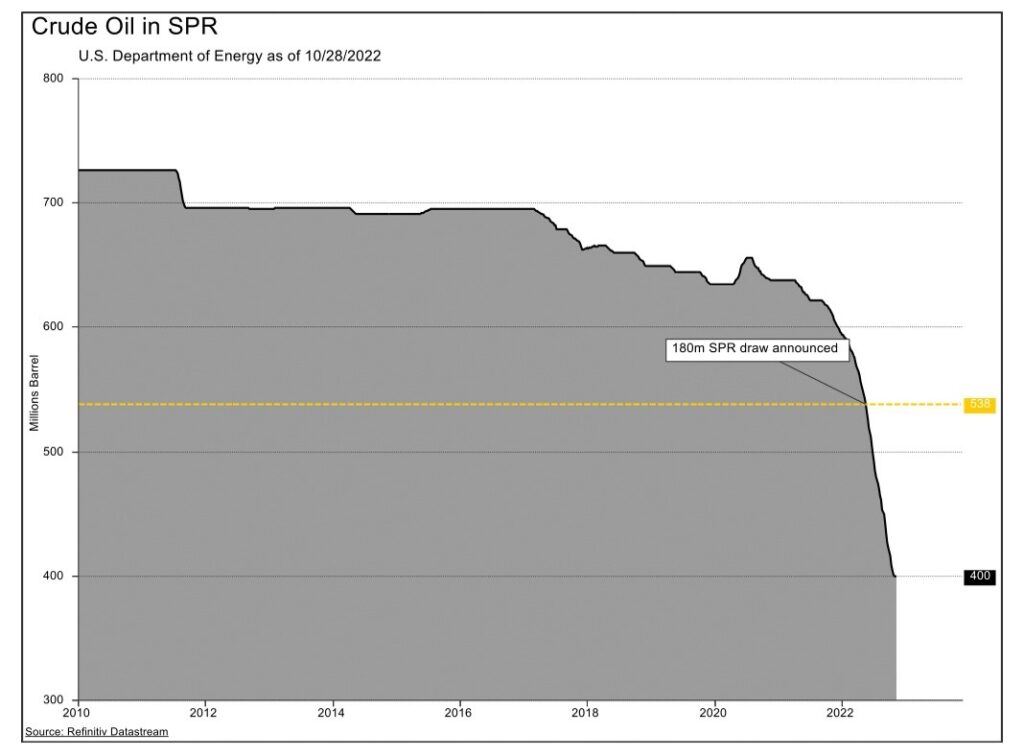 While gas prices fell as a result, it has created a massive new problem: The government has to replenish the supply by mandate.
It started that process in December 2022.
Look back at the chart of gas prices I showed you earlier. You'll see that is when gas prices started to rise again.
In mid-December, the average price of a gallon of gas was around $3.10. Now, it's close to $3.40. That's almost 10% higher in the span of two months!
The government is trying to replenish supply at a rapid pace. And with our oil reserves already at a 40-year low, tapping into those again to lower prices isn't an option.
On top of that, demand isn't likely to cool off anytime soon:
Historically, oil and gas demand rises into the summer months as people travel more during warmer months.
And we can't forget about the Russia-Ukraine war that is pressuring European countries to find resources outside of oil-rich Russia.
While we may end up paying more at the pump, this is an incredible situation for investors.
Find Opportunity From Gas Prices in This Energy ETF
With so many factors driving demand for oil, that means one thing: Stocks in U.S. oil and gas production are set for new highs.
Because we can't draw into our reserves anymore, one solution to solve the demand for oil is to allow U.S. producers to drill for more.
This means we're set for another boom in these stocks.
Oil and Gas Stocks Have Pummeled the Broader Market

The chart above shows the movement of the Dow Jones U.S. Oil & Gas Index (the blue line) and the S&P 500 (red line) since the start of Russia's invasion of Ukraine on February 24, 2022.
The Dow Jones U.S. Oil & Gas Index has jumped 27.8% since then.
The S&P 500 is down 7.7% during the same time.
Our proprietary Stock Power Ratings system is on top of things.
I ran an "X-ray" of the iShares U.S. Oil & Gas Exploration & Production ETF (NYSE: IEO), an exchange-traded fund (ETF) that holds 48 of the top U.S. oil and gas stocks.
Of those, 40 rated "Bullish" to "Strong Bullish" on our system.
Of note, only two companies in the ETF are rated "Bearish" or worse.
The average rating of all the stocks in IEO is a "Bullish" 78.
That means most of these companies will provide massive returns when the government realizes it has to turn up domestic oil production to combat higher gas prices.
Keep a sharp eye on these oil and gas producers in the coming months.
Note: If you're looking for more guidance on how to play this bullish movement for oil, my colleague Adam O'Dell is taking advantage with his No. 1 oil stock.
He believes this stock has everything it needs to soar 100% in only 100 days, and he'll tell you why in his "Oil Super Bull Summit."
Click here to watch Adam's exclusive presentation now.
Stay Tuned: A Company That Bolsters IT Infrastructure
There is so much innovative tech out there these days. But a reliable network is crucial as our world becomes more connected by the minute.
I'll be back on Monday with a stock that builds out IT infrastructure for some massive clients, including some multiple departments within the U.S. government.
Safe trading,

Matt Clark, CMSA®
Chief Research Analyst, Money & Markets