I look at data every day.
I love the stories that numbers can tell us…
Numbers aren't biased or emotional.
They are objective facts about the state of whatever it is you are analyzing.
That's why businesses turn to data in challenging economic times.
By transforming numbers into insights with data analysis, businesses can get a better handle on what their customers want, when they want it and how much they'll pay for it.
It takes a lot of the guesswork out of running a business.
According to Wakefield Research, 54% of businesses in the U.S. and Europe use data and analytics to help drive more revenue.
But with our Stock Power Ratings system, you can see that, while businesses are turning to data analytics to improve their bottom lines, some companies providing proprietary software aren't strong stocks to buy.
There's Money in Data
The global data analytics market was valued at $240.6 billion in 2021. Fortune Business Insights suggests that number will hit $655.5 billion by 2029 — a 172.4% jump in market value!
As you can see, companies providing businesses with useful data and analytics stand to make a lot of money from here.
But just because there are billions on the table doesn't mean every company will thrive.
And our Stock Power Ratings system helps you sift through the weeds and see what companies are poised for profit … and which one's aren't.
MicroStrategy Inc. (Nasdaq: MSTR) falls in the latter category.
The $2.7 billion company develops analytics software that allows businesses to easily comb through mounds of data and make sound business decisions based on the numbers.
But MicroStrategy is in a tough spot.
MSTR stock scores a "High-Risk" 1 out of 100 on our Stock Power Ratings system. We expect it to significantly underperform the broader market over the next 12 months.
MicroStrategy Stock: Zero Value + Weak Growth
I love to highlight a company's positive financials.
MSTR, on the other hand, has struggled:
In its most recent quarterly report, MicroStrategy reported a 2.1% year-over-year decrease in total revenue.
Its gross profit fell more than $5 million from $105.7 million in third-quarter 2021 to $100 million in second-quarter 2022.
That's why MSTR scores a 38 on growth.
The stock is just about as overvalued as it gets as well. It scores a horrible 0 out of 100 on our value factor.
MSTR has negative price to earnings, price-to-cash flow and price-to-book value.
That means its sales are in decline and can't support the stock's current price … all bad news for investors.
As you can see by the red line below, MSTR stock is down 31.3% over the last 12 months.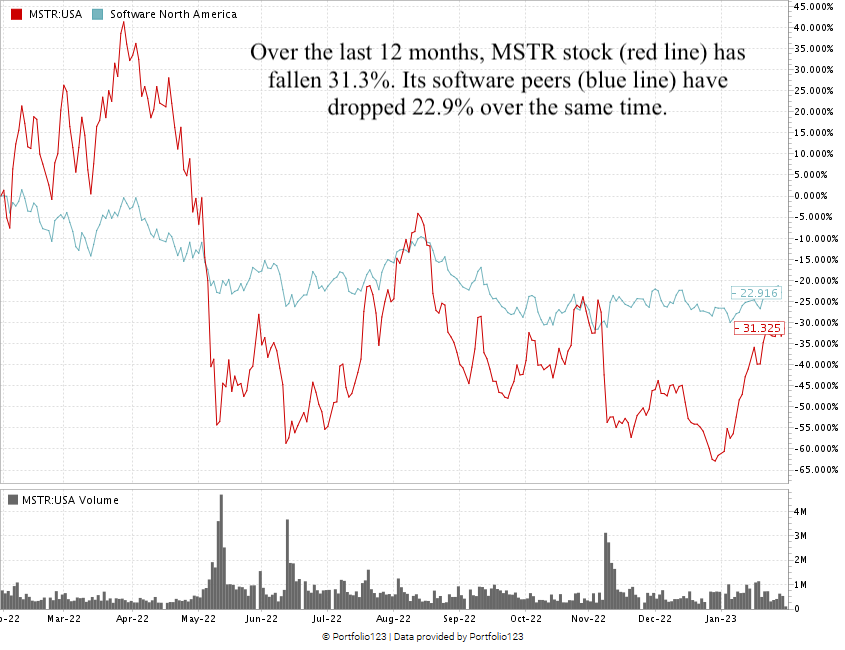 Its software peers dropped an average of 22.9% over the same time, shown by the blue line.
MicroStrategy stock scores a 1 overall on our proprietary Stock Power Ratings system.
That means we consider the stock "High-Risk" and expect it to underperform the broader market.
More businesses are analyzing hard data to make important decisions every day.
While MicroStrategy may provide a great platform for businesses to dive deep into the numbers, MSTR stock continues to struggle.
That's why MicroStrategy stock is one to avoid as 2023 rolls on.
Stay Tuned: A Tech Stalwart Faces the Music
The tech sector is in rough shape, and one of the original tech behemoths is struggling to find profitability.
I'll tell you why it looks bearish for the foreseeable future in the next Stock Power Daily.
Safe trading,

Matt Clark, CMSA®
Research Analyst, Money & Markets
P.S. I'd love to hear what you thought about my "Stock to Avoid" article today. Was it valuable? Would you like us to continue sharing high-risk stocks on occasion, so you know what to stay away from?
Would you prefer that we only share "Bullish" and "Strong Bullish" stocks?