The pharmaceutical industry runs on razor-thin margins.
One drug can make or break an entire company.
Take Aradigm for example. The California-based biotech company was in business for nearly 30 years before one drug spelled its demise.
The company spent millions developing a respiratory drug delivery system to treat chronic lung infections.
However, the Food and Drug Administration rejected the treatment and requested additional study. Aradigm only had about $7 million in cash — not nearly enough to run more research.
By February 2019, the company filed for Chapter 11 bankruptcy.
Aradigm is a cautionary tale that every pharmaceutical company doesn't want to repeat.
Today, I'm going to tell you about one company making big headlines … and big money with just one drug. I'll share what Adam O'Dell's Green Zone Power Ratings system tells us about its future prospects.
The Short Road to Weight Loss
We've all looked in the mirror and thought we could lose a few pounds.
For most of us, that means eating healthy and trying out that new gym down the street.
But others seek out a much easier road … pills or shots that come with a promise of a beach body in no time.
Danish pharmaceutical company Novo Nordisk A/S (NYSE: NVO) and its drug Ozempic has made headlines for helping people lose weight:

It's important to note that Ozempic wasn't created for weight loss… It's a drug to treat diabetes.
But Ozempic's tie to weight loss has generated big profits for Novo Nordisk. So much so that it's close to becoming the most valuable company by market cap in Europe:
Novo Nordisk (the black line in the chart above) is fast approaching Louis Vuitton's (LVMHF) $423 billion valuation.
It's grown so much that its $419 billion market cap is greater than Denmark's entire gross domestic product.
As a result, Novo Nordisk has brought a massive influx of capital into the Danish economy, forcing Denmark's central bank to keep interest rates low — an impressive feat in 2023.
Novo Nordisk Stock's Green Zone Power Ratings
NVO rates 76 out of 100 on our proprietary Green Zone Power Ratings system. That means we are "Bullish" on the stock and expect it to outperform the market by 2X over the next 12 months.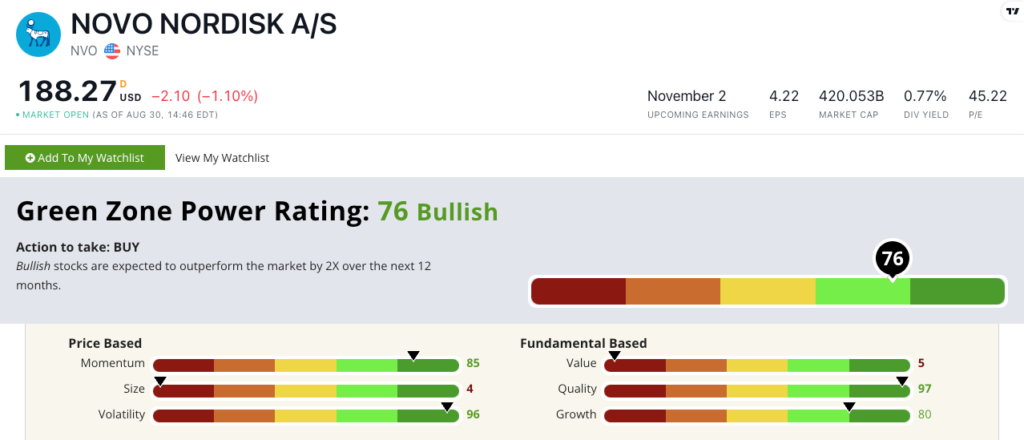 While the stock's 22% runup since mid-July has blown its price-to-earnings and price-to-cash flow ratios up — it rates a 5 on our Value metric— its Growth and Quality remain impressive.
In its recent earnings statement, Novo Nordisk reported a 29% increase in sales for the first six months of 2023. NVO's North American sales jumped 45% alone — leading to an 80 rating on Growth.
The company's operating profit increased 30%, while its returns on assets, equity and investment are leaps and bounds above the system-specific biopharmaceutical industry averages.
Bonus: NVO has a 1.09% forward dividend yield, paying shareholders $2.06 per year for every share they own.
Bottom line: One drug can make or break a pharmaceutical company.
There are plenty of cautionary tales of companies that failed because they couldn't get a drug approved or marketed properly.
But Novo Nordisk has found a niche with Ozempic … and that niche is turning over billions in profit for the company.
That's a compelling reason why you should look at NVO for your portfolio.
Until next time…
Safe trading,

Matt Clark, CMSA®
Chief Research Analyst, Money & Markets