One of my wife's good friends lives in Hawaii.
Beautiful place to live and visit…
But I can't say the same about the cost of goods and services.
AAA reports the average price of a gallon of gas in Hawaii is $4.85. That's 42% higher than the national average of $3.41.
Ouch.
The reason: Getting goods to the island is not an easy venture. Just about everything has to be shipped in, and that's expensive.
It's why, in Hawaii, one of the most important industries is the oil and gas downstream sector.
This includes companies that refine, deliver and sell gasoline … the last step of the oil and gas supply chain.
Mordor Intelligence reports that the fastest-growing oil and gas downstream market is the Asia-Pacific region, including Hawaii: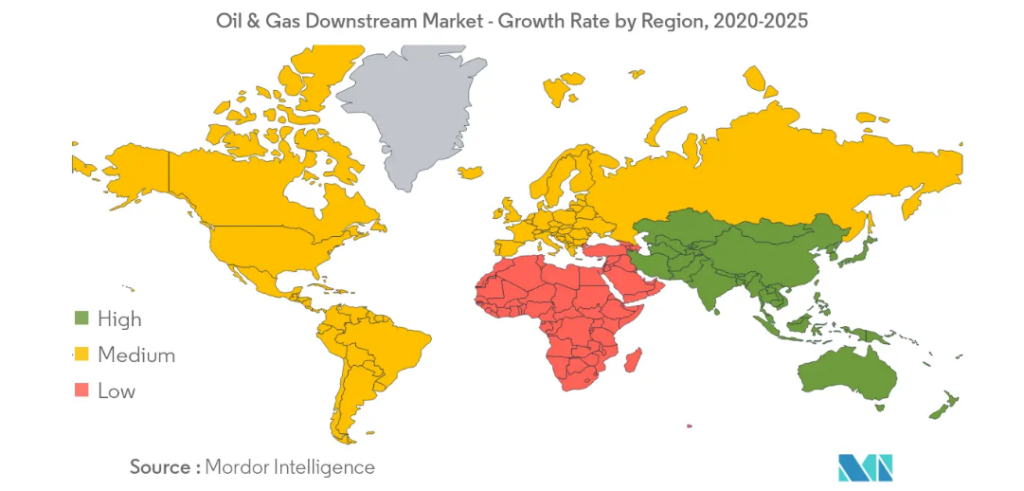 As you can see from this graphic, the region expects high downstream market growth due in large part to increased demand in countries such as China and India.
Today's Power Stock operates refineries and an extensive transportation system, including trucks, rails and barges, to move oil and gas through the Asia-Pacific and Pacific Northwest regions as well as Hawaii.
Par Pacific Holdings Inc. (NYSE: PARR) scores a "Strong Bullish" 95 out of 100 in our proprietary Stock Power Ratings system.
That means we expect it to beat the broader market by 3X in the next 12 months.
In addition to refining, transporting and selling oil and gas, PARR owns and operates 90 gas stations in Hawaii and another 31 across Washington and Idaho.
PARR Stock: Nice Upward Trend With Fantastic Value and Growth
PARR recently reported a strong close to 2022.
Here are two high points:
Reported net income of $364.2 million for the year — PARR had a net loss of $81.3 million the year before!
Its refining segment posted operating income of $401.9 million — that's compared to an operating loss of $88.8 million in 2021.
These sales figures show why PARR stock scores a 97 on our growth factor in our Stock Power Ratings system.
PARR is also a strong value stock — it scores a 94 on that factor. Its price-to-sales ratio is half the downstream energy industry average. PARR's price-to-cash flow ratio is nearly two points lower than its peer average.
But its outstanding momentum tells the real story:
PARR stock price has increased an incredible 115.6% over the last 12 months.
For comparison, its downstream energy peers have averaged a 41.6% gain over the same time.
That shows the "maximum momentum" we want to see in stocks…
PARR stock scores a 95 overall on our proprietary Stock Power Ratings system.
That means we're "Strong Bullish" and expect it to beat the broader market by at least 3X in the next 12 months.
It's expensive to get oil and gas to the islands of Hawaii.
And the Asia-Pacific region is the fastest-growing region in the world for downstream energy services.
With a strong foothold in the downstream energy market in Hawaii and across the broader region, PARR is a smart addition to your portfolio.
Stay Tuned: Avoid This Bank Stock After the SIVB Debacle
SVB Financial Group (Nasdaq: SIVB) rocked markets last week and flashed a huge warning sign for other bank stocks. (Catch up on my biggest takeaway from the whole mess here.)
I dug into Stock Power Ratings and found another bank to avoid as interest rates continue climbing higher.
Stay tuned.
Safe trading,

Matt Clark, CMSA®
Research Analyst, Money & Markets