The list of indicators pointing to a recession grows longer every day.
And now, data from the shipping industry points to an economic downturn.
The Baltic Dry Index (BDI) measures the cost to ship dry goods around the world by sea. Dry goods can be anything that fits in a container — grains, factory equipment and even small plastic toys are just some examples.
It's an economic indicator because the laws of supply and demand apply to the shipping market.
And the latest data looks bearish for our economic future.
What Shipping Data Says About the State of Our Economy
The global supply of ships is pretty much fixed because it takes time to add new ships to routes.
Since changes in supply occur slowly, demand determines prices in the short run.
When prices to send cargo by ship rise, it's because demand for shipping services is increasing.
Lower demand is associated with lower prices in the BDI and it shows that producers are making less — an indicator that economic growth is slowing.
BDI fell more than 70% in the past year.
There have only been a few times when the index fell at least this much in a year.
Two were before the most recent recessions in 2008 and 2020. The economy avoided recession after the other signals.
Major Shipping Index Crashes 70%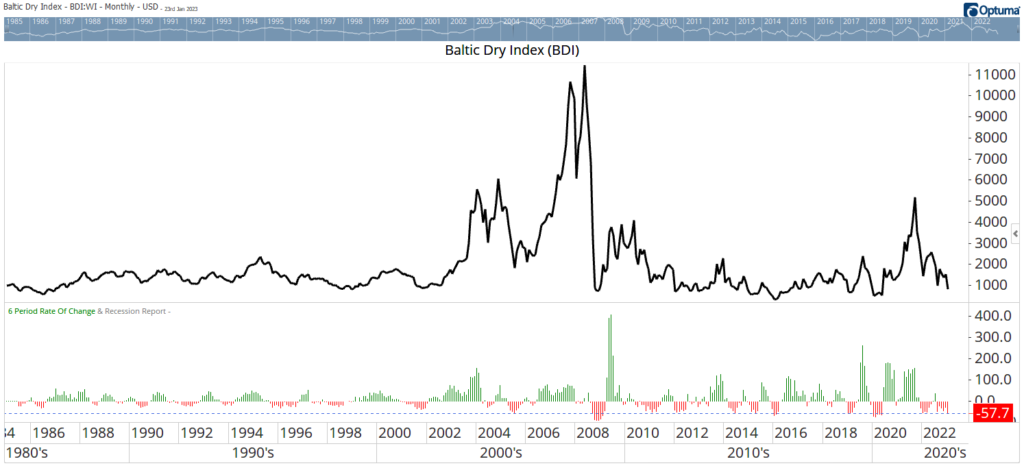 BDI shows a risk of a global slowdown. And a related industry confirms this trend.
U.S. Trucking Industry Taps the Brakes
Trucking in the U.S. confirms the nation's economy is also slowing.
The next chart shows the Cass Freight Index.
It's based on the amount of revenue the industry reports. Revenue for trucking companies dropped in the past few months.
U.S. Trucking Throws Revenue Into Reverse
Previous dips shown as red shaded areas on the chart have accompanied recessions. There have also been several false signals.
Cass estimates that shipping rates fell 0.4% in the last year.
The decline is accelerating with the month-over-month decline topping 2.2%.
Bottom line: Shipping is the latest indicator pointing to a recession.
Of course, the Federal Reserve could avoid one through smart policy decisions.
But prudent investors shouldn't bet on the Fed doing everything right.
---
Michael Carr, CMT, CFTe is the editor of two investment trading services — One Trade and Precision Profits — and a contributing editor to The Banyan Edge. He teaches Technical Analysis and Quantitative Technical Analysis at the New York Institute of Finance. Follow him on Twitter @MichaelCarrGuru.