It might not surprise you to know that the busiest port in the world is the Port of Shanghai in China.
The deep-sea operation mostly handles shipments of ore, coal, crude oil and steel. It accounts for a quarter of all of China's foreign trade.
Shipping oil around the world is big business.
Shipping research firm Bimco projects demand for reliable oil tankers globally will increase 4% this year and another 1.5% in 2024 — creating the strongest oil tanker shipping market in 15 years.
And demand is remaining high. IHS Markit expects the amount of crude oil shipped across the seas to reach nearly 2,000 seaborne metric tons by next year!
Oil shipping has recovered from its COVID slump, and it's only going higher from here.
That volume means oil producers need reliable transportation to move product by sea.
Today's Power Stock operates a fleet of Suezmax crude oil tankers worldwide.
Nordic American Tankers Ltd. (NYSE: NAT) has a fleet that operates in many major oil markets.
With a primary base of operations in Bermuda, Nordic American ships oil from North America to Europe. But it also moves crude oil to and from Africa and around the Marshall Islands in the Pacific.
And NAT is benefiting from the oil boom.
NAT scores a "Strong Bullish" 87 out of 100 on our Stock Power Ratings system. We expect it to beat the broader market by 3X in the next 12 months.
Let's see what's driving NAT's strong rating.
NAT Stock: Small Cap With Impressive Growth and Momentum
Nordic American closed out 2022 with an incredible quarter.
Here are two high points:
The company reported fourth-quarter earnings per share of $0.17 — a 240% increase from the previous quarter.
Its net annual revenue was $168.8 million — that's a 150.1% jump from 2021!
These revenue and earnings numbers show why Nordic American stock scores a 78 on our growth factor in Stock Power Ratings.
This is also a small-cap stock with a $750 million market cap. It's benefiting as investors look for new ways to profit during the ongoing energy bull market. That's reflected in its 65 size rating.
But what I like even more about NAT is its momentum. Check out its stock chart: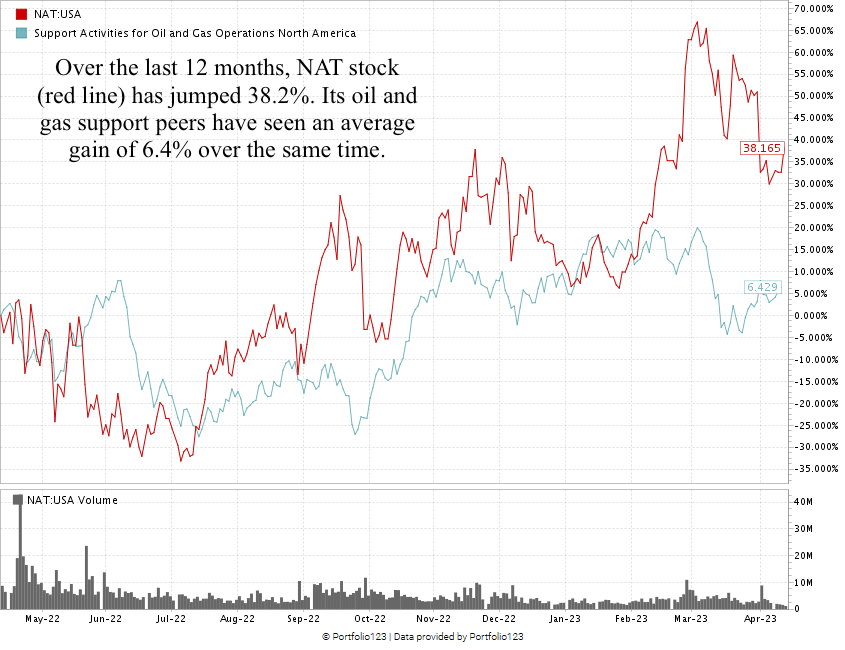 Over the last 12 months, NAT stock has jumped 38.2%. For comparison, its oil and gas support industry peers have climbed 6.4% over the same time.
From its 52-week low set in July 2022, the stock has mounted a 105.7% rally.
Nordic American stock scores an 87 overall on our proprietary Stock Power Ratings system.
That means we're "Strong Bullish" and expect it to beat the broader market by at least 3X in the next 12 months.
Demand for reliable oil shipping around the world is going to produce the strongest market in 15 years.
Coming off a strong 2022 with record-setting revenue and earnings per share, Nordic American Tankers is on track to be a big player in this market growth.
That's why NAT is a strong stock to consider for your portfolio.
Stay Tuned: Another Bullish Play for Today's Market
I'll be back on Monday with another stock that's outperforming the broader market.
Stock Power Ratings will show us why…
And if you're looking for more opportunities like this, I urge you to check out Adam O'Dell's $5 Stocks to Watch Now.
It's a brand-new free report with 298 tickers that he believes have the potential for outsized gains in the coming year.
And stay tuned, he's going to whittle this list down using his proprietary ratings system. By the time he's done, he'll have a small selection of stocks that he believes can gain 500% this year.
Until then…
Safe trading,

Matt Clark, CMSA®
Research Analyst, Money & Markets