Sometimes when you are poring over stock charts, you find something that seems too good to be true.
I see it all the time.
A stock that starts at a low point and moves higher at light speed.
It's understandable if you're gripped by FOMO (fear of missing out) as a stock rips higher and you didn't invest.
But more often than not, that chart is just showing the end of a short-term rally.
There is one way to be sure.
Several stocks have climbed higher as the S&P 500 inched out of a technical bear market in June.
History suggests a broader uptrend in the market is on the horizon. Check out this table from Carson Investment Research:
It shows that when the S&P 500 is up more than 10% year to date at the end of June following negative returns the year before, the market rises even higher over the next 12 months.
So it's easy to think that a stock with positive momentum still has room to run.
And you can use other resources to figure out if there are more gains ahead.
Today, I'm going to look at a stock that's risen sharp and fast over the last month and use our proprietary Green Zone Power Ratings system to see if the rise is a blip on the radar or something worth investing in.
The Rise of Dropbox
Dropbox Inc. (Nasdaq: DBX) is a collaborative app that started as a simple cloud storage platform for documents, photos and other digital files.
It has grown to include features that allow users to work on files stored in the cloud and track their work in one space.
Over the last month, DBX stock took off:
DBX's Month of Strong Momentum
DBX stock jumped from $22.69 at the end of May to $26.53 at the time of this writing.
That's a 17% gain in short order. For comparison, its internet and data services peers averaged a 4.7% gain during the same time.
Running the calendar back a bit more … from its May 4 low, DBX jumped more than 35% compared to its peers that averaged a 19% gain.
On the surface, you might want to jump into DBX now … and because we prefer stocks already in a confirmed uptrend, your decision based on that price action makes some sense.
But smart investors look at the entire picture of a stock … volatility, value, quality, growth and size … before taking the plunge.
Our Green Zone Power Ratings system does that work for you.
Green Zone Power Ratings: Dropbox Stock
DBX rates a 70 out of 100 on our Green Zone Power Ratings system. That means we are "Bullish" on the stock and expect it to outperform the broader market by 2X over the next 12 months.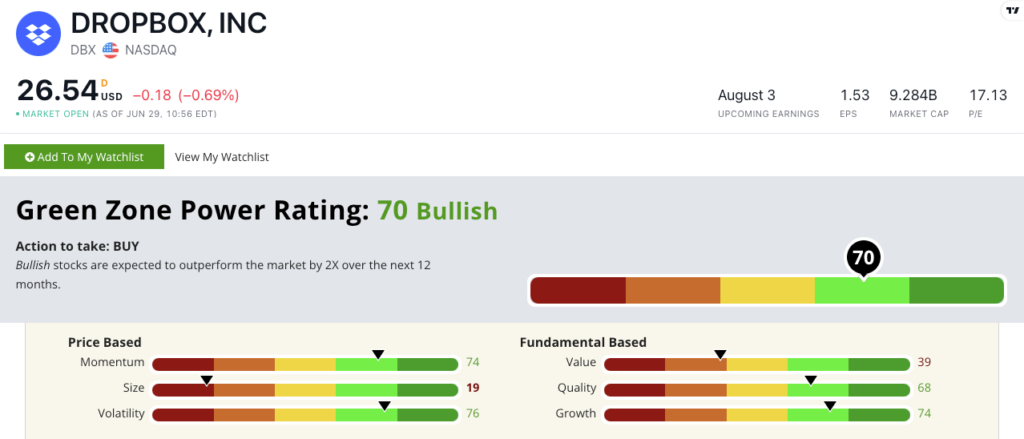 The stock chart above shows why DBX rates in the 70s on our Momentum and Volatility factors.
But DBX is also strong on Growth at 74 out of 100. The company has a one-year annual sales growth rate of 7.7% and an earnings-per-share growth rate of 46.2%.
It's also Bullish on Quality with positive returns on assets and investments along with gross, net and operating margins all higher than industry peer averages.
Bottom line: Just because you see a stock on a meteoric rise over a short time frame doesn't make it a sound investment.
The rally may have run its course by the time you've recognized the trend.
But our Green Zone Power Ratings system helps you confirm if stocks like DBX have higher to go … or if potential losses are on the horizon.
Friendly Reminder: Fourth of July Holiday
Today, the markets close early for the upcoming Fourth of July holiday.
Markets are closed tomorrow and, as such, so are the Money & Markets offices.
We'll be back on Wednesday, so enjoy your holiday until then!
Safe trading,

Matt Clark, CMSA®
Chief Research Analyst, Money & Market