The COVID pandemic sparked an already thriving "gig economy" in the U.S. — a labor market driven by short-term contracts and freelance work instead of full-time positions.
Studies show the number of freelancers jumped from 62.2 million in 2019 to 64.8 million in 2022.
While "gig economy" growth is strong, our Stock Power Ratings system shows that not all companies involved are great investments.
This is the case with Upwork Inc. (Nasdaq: UPWK).
UPWK's Roller-Coaster Stock Journey
A quick look at our Stock Power Ratings system helps you see the real picture of a company.
The company started in 2013 as an online platform connecting freelancers with short-term contracts for everything from website development to blog posts.
You might recognize Upwork stock because of its massive jump in 2020 … during the height of the COVID pandemic.
UPWK soared 956.3% higher from April 2020 to February 2021. But this company has fallen back to reality.
And that's reflected in its Stock Power Ratings…
UPWK stock scores a "High-Risk" 6 out of 100 on our Stock Power Ratings system. We expect it to underperform the broader market over the next 12 months.
UPWK Stock: Red Fundamentals With High Volatility
Here is where I usually tell you about impressive company milestones.
Not so much for UPWK:
In its recent quarterly report, the company added 25 new enterprise clients — down 26% from the same quarter a year ago!
It only notched 9% growth in active clients during the quarter — the lowest gain since 2020.
That shows why UPWK scores a 30 on growth.
It also scores in the red on our value and quality factors.
UPWK has negative price to earnings, meaning it's not generating any profit. It scores a dismal 21 on value.
The company has a miserable return on equity of negative 37.8% and a return on investment of negative 11%, earning it a 31 on quality.
All of this tells us the stock is wildly overvalued, and its financial bottom line is in terrible shape.
UPWK stock has had a rough 2022, falling 61.6% Its share price is just above where it was before it took off in 2020.
The S&P 500 has dropped 17.6% over the same time: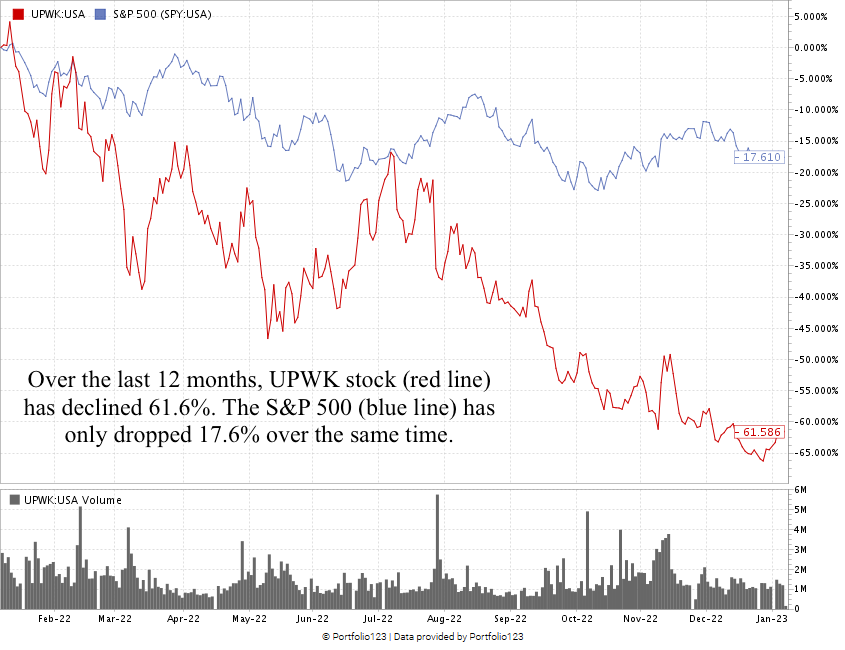 UPWK stock scores a horrible 6 overall on our proprietary Stock Power Ratings system.
That means we consider it "High-Risk" and expect it to underperform the broader market.
The "gig economy" took off as millions of Americans were left without work during the COVID pandemic.
Upwork has lost its footing in the "gig economy" as it struggles to make money in the aftermath of COVID.
A quick look at our Stock Power Ratings system shows that the massive red ink in its ledger makes Upwork stock one to avoid.
Stay Tuned: A Strong Bullish Mobile Gaming Stock
Tomorrow, we're returning to our original Stock Power Daily form.
I'll share all the details on a mobile gaming stock that is climbing higher as it brings the casino straight to your iPhone.
Stay tuned…
Safe trading,

Matt Clark, CMSA®
Research Analyst, Money & Markets