Summer is at our doorstep.
Here in South Florida, it's already hitting near 90 degrees in May.
The National Weather Service's Climate Prediction Center recently issued its unofficial long-range forecast for the summer months.
If you aren't a fan of hot weather … steer clear of the chart below.
Hotter Summer Projected Across the Country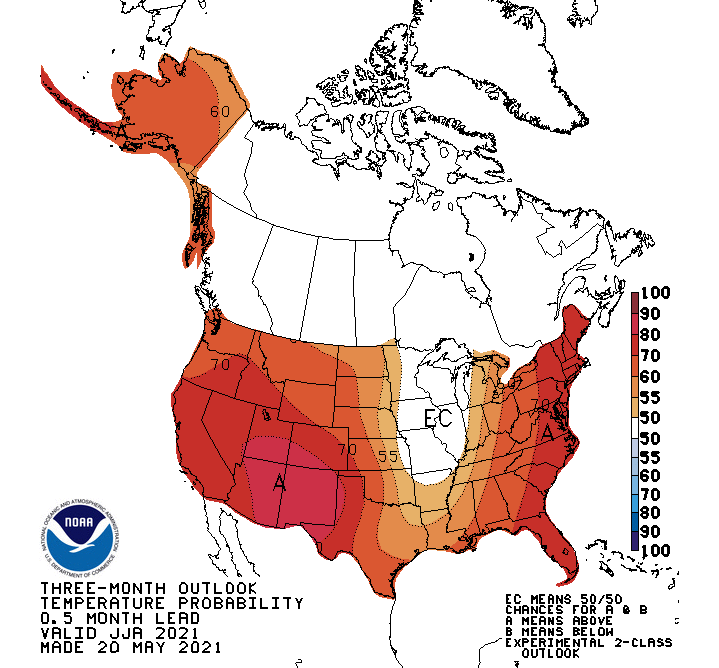 It expects above-average temperatures for most of the country — especially east of the Mississippi.
That means air conditioners across the country will be working extra hard (and breaking more!).
So I want to revisit a utilities stock I wrote about back in March because our system shows it's still very much a buy.
It's an established company that sells home heating and air conditioning products as well as diesel, gasoline and home heating oil.
And it still rates a 99 overall on Adam O'Dell's Green Zone Ratings system — even two months after I originally recommended it.
Utilities Stock to Buy: Star Group Is Strong
Utilities are a fact of life. You have to have them.
Even if your home is completely green or reliant on natural gas, a utility has to supply the power to you.
One of the strongest utility stocks you can buy right now is Star Group L.P. (NYSE: SGU).
While it doesn't supply energy directly, it does sell heating and air conditioning products to residents as well as commercial home heating oil and propane.
It also sells diesel and gasoline on a delivery basis and provides plumbing services.
The company's gross profit went from $463.3 million in 2018 to $475 million in 2020.
Star's earnings before interest, taxation, depreciation and amortization (EBITDA) went from $66 million in 2019 to $123.8 million in 2020.
Star's Stock Price Continues to Rise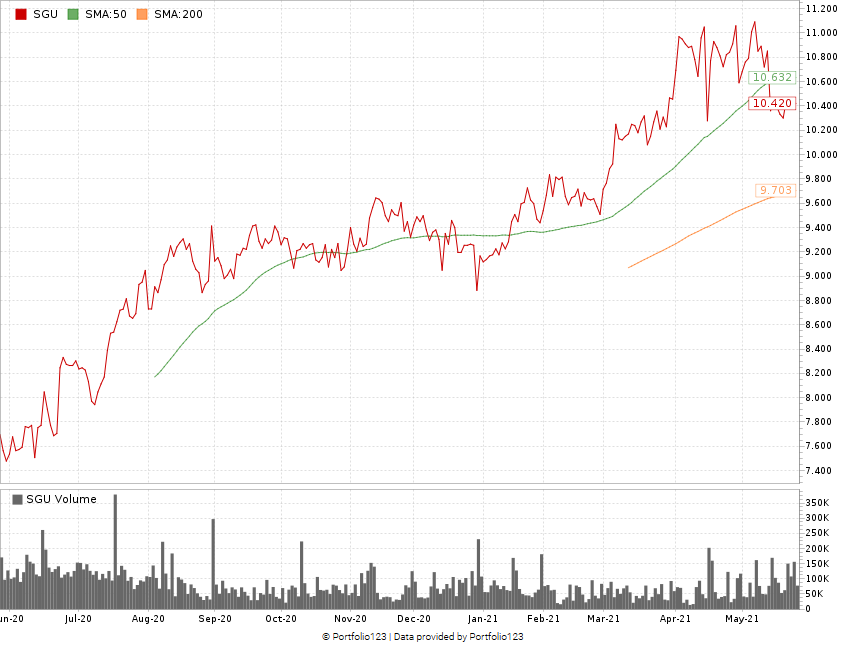 During the March 2020 COVID-19 crash, Star's stock price fell to a low of $6.45 per share.
Since then, the stock has consistently been in an uptrend.
As I write this, the stock prices at $10.40 per share — a 61.2% jump from that March 2020 low.
It certainly fits the "buy high, sell higher" philosophy that Adam, Charles Sizemore and I follow.
Adam's Green Zone Ratings system scores SGU a 99 overall — meaning only 1% of all other stocks rate higher.
We are "Strong Bullish" on SGU and expect it to blast the broader market by three times over the next 12 months.
SGU ranks in the green in five of the six factors, including value (99), volatility (98), size (91), growth (88) and quality (81).
This utilities stock rates low in momentum (49) due to its sideways trading from August 2020 to January 2021. But that is 10 points higher than where SGU was sitting when I last reported on it. Investors are starting to catch on.
Bottom line: The U.S. Energy Information Administration said the prices of natural gas liquids, like natural gas and propane, have started to fall.
That means the products sold by Star Group are getting cheaper.
And millions of Americans will need to fix their air conditioning units during the hot summer months.
Demand for Star Group's products and services will continue to grow.
And now the perfect time to buy SGU high and sell higher in the coming months.
Safe trading,
Matt Clark

Research Analyst, Money & Markets
Matt Clark is the research analyst for Money & Markets. He's the host of our podcast, The Bull & The Bear, as well as the Marijuana Market Update. Before joining the team, he spent 25 years as an investigative journalist and editor — covering everything from politics to business.
---
Story updated on May 28, 2021.