If there is a buzzword in investing today, it's AI.
Yes, I know artificial intelligence is actually two words (and AI is two letters), but let's not play the semantics game…
Did you know: The term "artificial intelligence" has been around since the early 1950s when three RAND Corporation employees developed the Logic Theorist.
This program was designed to replicate the problem-solving skills of humans by teaching machines to think.
But it wasn't until November 2022, when OpenAI, an American research lab, launched a demo of ChatGPT — a program that, with some human assistance, could do things such as write novels, plan trips and even code computer programs.
Now, AI is a hot topic … especially among investors.
Especially those who believe AI is the next big sector to take off.
Today, I'll look at the future of AI and use Adam O'Dell's proprietary Green Zone Power Ratings system to show you that, while a lot of money is pouring into AI, not every stock related to the sector is one you should invest in.
AI Is About to Take Off
Huge companies such as Microsoft Corp. (Nasdaq: MSFT) and Google parent Alphabet Inc. (Nasdaq: GOOGL) are pumping billions into AI and have already integrated the technology into their web browsers.
But that is just the beginning of growth in the sector.
According to research from Statista, the value of the AI market worldwide was only $87 billion in 2021.
I say "only" because that market value is expected to skyrocket to nearly $1.6 trillion by 2030.
That is a 1,735% jump in value … in less than a decade!
Want more proof that AI is about to explode? Check out this graphic from Business Insider: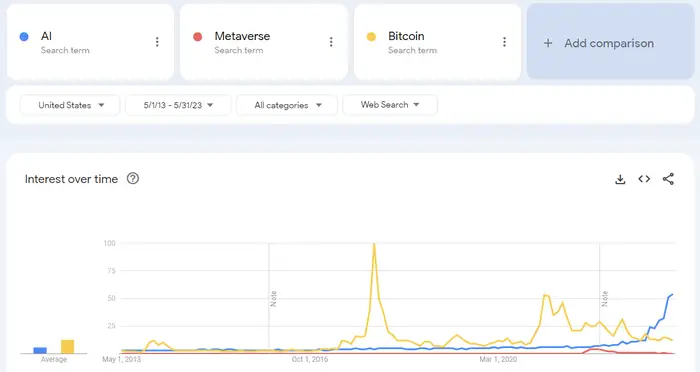 Business Insider published a study conducted by AllianceBernstein that tracked the number of times "AI" has been searched on Google.
AI searches (the blue line in the chart) have been on the rise since the start of 2023 … or shortly after ChatGPT was launched.
Google searches for "AI" are far surpassing searches for "bitcoin" or even "metaverse" — and the gap is getting wider.
But that doesn't mean it's time for a second mortgage so you can invest that capital in AI.
Because, just like with cryptocurrencies or any other emerging technologies, there are far more losers out there than winners.
And our Green Zone Power Ratings system can help you separate the wheat from the chaff.
Steer Clear of 1 AI Stock
I'm not suggesting Upstart Holdings Inc. (Nasdaq: UPST) will fall by the wayside like dogecoin, but it is one that our system says you should stay away from for now.
Upstart uses a cloud-based AI platform to match consumers looking for loans with banks.
The company uses AI models to reduce lending risk by factoring in 1,500 different variables, ranging from credit experience to bank account transactions.
But, Upstart hasn't been a part of the AI market bandwagon of late.
In its first-quarter 2023 earnings call, the company reported:
A 67% decline in total revenue.
A $132 million loss of operating income.
And a 78% drop in loan transactions.
And that's contributing to an awful rating in our system.
 UPST Is Red Across the Board
Upstart stock rates a 2 out of 100 on Green Zone Power Ratings. We consider the stock "High-Risk" and expect it to significantly underperform the market over the next 12 months.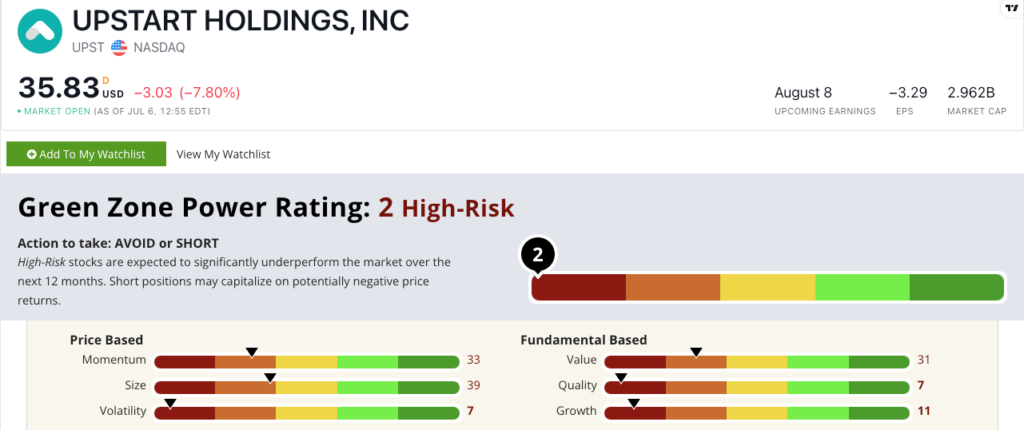 The stock scores "Bearish" or worse on all six factors.
Its quarterly report shows why it rates an 11 on Growth. UPST also rates low on Quality (7) with returns on assets, equity and investment in the negative.
On Momentum, UPST rates a 33.
Since reaching a peak of $390 per share in October 2021, the stock has been in freefall — dropping 90.7%.
Bottom line: While AI is capturing the attention of the world … including investors looking for the next big thing … UPST is struggling to find any footing.
If you're looking to chase the AI trend in the market, UPST is one you want to run away from right now.
And if you're looking for strong AI stocks to buy, Adam has you covered.
While everyone is focused on ChatGPT and the tech sector, Adam is targeting a sector that's flying under the radar. And it's going to be a massive beneficiary of the $80 trillion AI boom.
Click here for more information.
Stay Tuned: Consumer Stocks to Buy
Speaking of Adam, he's going to show you some consumer stocks that are set to soar after diving into the consumer discretionary sector last week.
Until next time…
Safe trading,

Matt Clark, CMSA®
Chief Research Analyst, Money & Market