As a sports reporter, there was one thing I always looked forward to … the start of football season.
Nothing could replace the atmosphere of going to a stadium and the excitement of fans tailgating.
I always made it a point to walk around the parking lot to take in the smells of barbecue ribs, burgers and hot dogs.
We missed that in 2020.
But it's back in 2021.
As college football kicks off this year, I'm reminded that sports are back. Kids are getting back on the playing fields, courts and pitches (for you European football fans).
I was also reminded of a stock I recommended in June as a play on the sports revival.
Using Adam O'Dell's six-factor Green Zone Ratings system, I found a company in June that has a strong share of the sports and swimwear market. We were "Strong Bullish" on it then, and we are "Strong Bullish" on now.
This stock is up 20% since I recommended it in June, and it's situated to outperform the broader market by at least three times over the next 12 months.
A Big Market Rebound Means Profits Galore
From 2012 to 2019, the sports and swimwear market saw rapid expansion.
In those seven years, the market grew more than 71% thanks to strong sales in sports equipment.
The market suffered a 27% drop in revenue in 2020 thanks to the COVID-19 pandemic.
Lockdowns put a stop to baseball games, youth swim meets and other outdoor activities, so sales plummeted.
But the world is getting back to normal. And teams are returning to parks and pools in droves. That means the need for sporting goods and swimwear will grow.
Projections indicate by 2025, the sports and swimwear market will rise 80% from its low in 2020 and surpass the previous high in 2019.
Companies positioned as leaders in the market will see sales grow and profits explode. Investors in those companies will too.
Buy Big 5 Sporting Goods Stock Now
One of the biggest sporting goods and swimwear retailers in the United States is Big 5 Sporting Goods Corp. (Nasdaq: BGFV).
The company is based in El Segundo, California and operates 430 stores — mostly in California and the West Coast.
From 2017 to 2019, Big 5 struggled.
It had sales, but the rate it was opening new stores cut into its net income — the profits left after taking out business expenses.
Despite the COVID-19 pandemic, the company saw $55.9 million in net income in 2020 — a 565% increase from 2019.
Projections indicate Big 5 will bring in $75.2 million in net income this year — an 800% increase from 2019 and a 35% upswing from 2020.
Big 5 Stock (Red Line) Back on the Upswing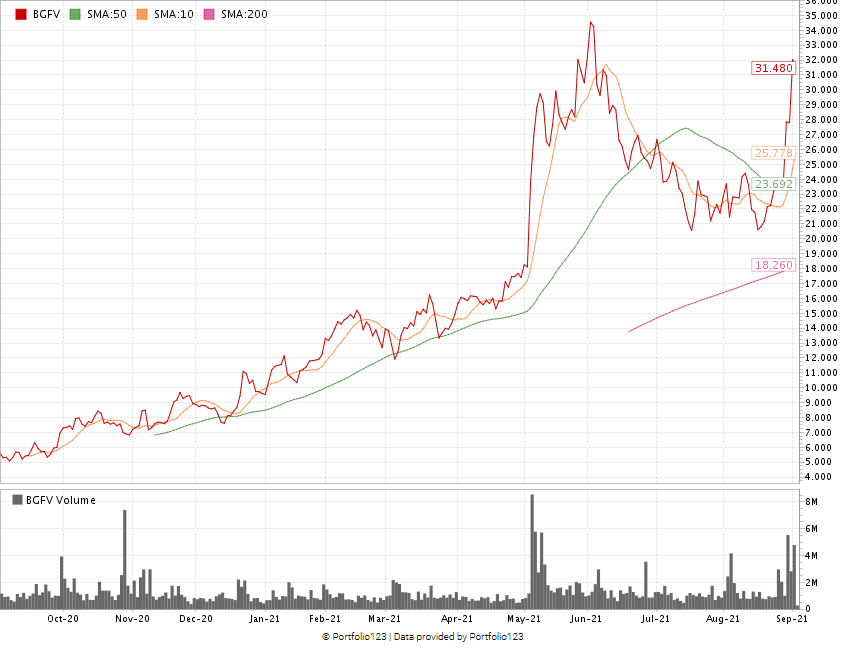 From June 2020 to May 2021, Big 5's stock price was on a slow and steady climb.
On May 4, 2021, the company reported its quarterly earnings.
It included a 32% increase in same-store sales and earnings per share of $0.96 — well above the company's guidance of $0.47 to $0.53 per share.
From May 4 to May 10, Big 5's stock price jumped 64% … and kept going.
From June 2020 to June 2021, Big 5's stock price climbed nearly 1,500%. It experienced a small sell-off in mid-June, but then it reported its latest quarterly earnings in August.
After setting records in both sales (up 31.2% year-over-year) and earnings ($1.63 beat guidance by $0.40 per share), the stock reversed course and gained 62% since August 17.
Big 5's Stock Rating
Using Adam's six-factor Green Zone Ratings system, Big 5 Sporting Goods scores a 98 overall. That means we are "Strong Bullish" on this sporting goods stock and expect it to outperform the broader market by three times in the next 12 months.
Big 5 rates in the green in five of our six factors:
Value — The company's price-to ratios (earnings, sales, book and cash flow) are all either inline or slightly below the industry average … making it a good value stock. It scores a 100 on this metric.

Quality

 — Big 5 has double-digit returns on assets, equity and investments — all double the industry average. That gives the company a 96 on quality.

Growth

 — It's strong second quarter of sales in 2021 helped give Big 5 a trailing 12-month sales growth rate of 25%. It's one-year earnings-per-share growth rate is 546%. That earned the company a 93 on this metric.

Momentum

— Despite a drop in the early summer, Big 5's stock has jumped up since mid-August. Big 5 earns an 82 on momentum.

Size

 — Big 5 comes in with a market cap of a little more than $758 million, which puts it at the higher end of our size factor. It earned a 67 on size.
The company does score a 35 on volatility, mostly due to its pullback in June and July. However, the stock price is starting to move upward again.
Bottom line: Sports are back after taking a COVID-19 break last year.
People are going out; stadiums are filling up, and kids are playing sports again.
I can smell the tailgating barbeque as I write this.
This is going to give a huge boost to Big 5 and other retailers.
This stock is up 20% since I recommended it in June, and I think it's going to keep going up now that sports are back.
If you want to invest in the "return to normal" trend, it's hard to beat Big 5.
Safe trading,

Matt Clark, CMSA®
Research Analyst, Money & Markets
Matt Clark is the research analyst for Money & Markets. He is a certified Capital Markets & Securities Analyst with the Corporate Finance Institute and a contributor to Seeking Alpha. Prior to joining Money & Markets, he was a journalist and editor for 25 years, covering college sports, business and politics.
---
Story updated on September 3, 2021.