Chile is known for its narrow geographical shape — it's about 2,700 miles long running down the western coast of South America, but only averages 110 miles wide.
And this slim strip of land is fertile ground if you're a miner.
The country has made headlines for being the second-largest supplier of lithium in the world behind Australia.
Because of its vast mining industry, the country needs massive amounts of electricity.
Energy consumption of the world's mining industry is equal to the energy consumption of Australia, Mexico, South Korea, Italy and Canada … combined!
And Chile's demand continues to grow:
World Bank expects electricity consumption in Chile will expand by 30% from 2015 to 2028.
One of the biggest distributors of electricity in the country is Enel Chile SA (NYSE: ENIC).
The smaller company — with a market cap just south of $4 billion — serves more than 10% of the entire population of the country.
What's even more impressive is the company is building out solar, wind, hydroelectric and geothermal energy production with the intent of creating an 80% renewable generation matrix by next year.
So it works both sides of the energy equation — old, dirty energy and new, clean energy — that Adam has talked about before.
Now let's see why ENIC is a solid stock priced under $5 using our proprietary system.
Why ENIC?
Over the last few weeks, my friend and colleague (as well as Money & Markets' Chief Investment Strategist) Adam O'Dell pulled together an impressive list of stocks.
They all had one thing in common: Each stock was priced under $5 per share.
Using our proprietary Stock Power Ratings system, he's eliminated those considered "High-Risk," "Bearish" and even "Neutral" stocks to isolate the best of the best.
Adam just unveiled a small selection of tickers from that list. These are the stocks he believes have the best chance to secure 500% gains or more over the next year. Click here if you want information on how to access that list.
But there were still plenty of companies that didn't make the final cut that are still solid investments, according to Stock Power Ratings.
ENIC is one of them. Here's why…
ENIC's Strong Stock Power Ratings
Our Stock Power Ratings system rates more than 6,000 stocks on a scale from 0 (High-Risk) to 100 (Strong Bullish).
We use six different factors to determine that rating: momentum, size, volatility, value, quality and growth.
Those six factors come together to create one overall rating.
Every stock has its own journey on our system. Some start high and move lower and vice-versa.
Here is ENIC's stock price and ratings journey since November: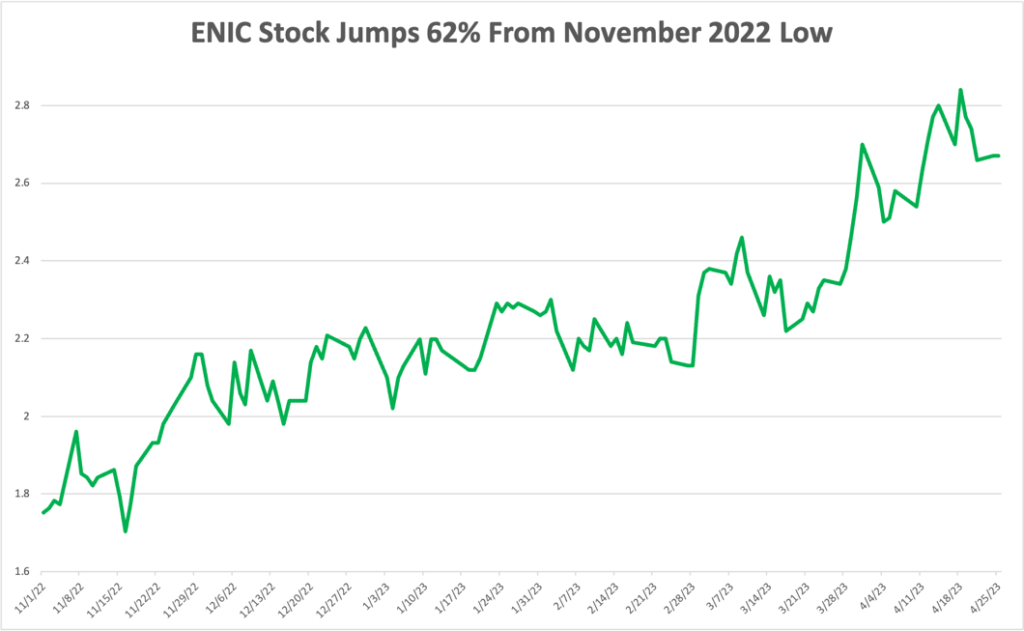 ENIC rated "Bearish" for much of last year, but steady gains throughout the latter half of 2022 pushed it into "Bullish" territory in November.
It gained 62% from November to its 52-week high in mid-April.
That's a tidy gain in a short amount of time for a stock priced under $5 a share.
And the beauty is the rating has only gone up since then … it currently rates a "Strong Bullish" 97 out of 100.
That means it's set to beat the broader market by 3X in the next 12 to 24 months.
This is why it pays to use our Stock Power Ratings system. If you would have bought ENIC when it moved into "Bullish" territory, you'd be sitting on nice gains … with the opportunity for even more ahead.
Pro tip: ENIC has great potential based on our Stock Power Ratings system, but Adam has a handful of stocks he believes have the best chance to gain 500% over the next year.
If you haven't already, I invite you to check out his research on the absolute best stocks priced under $5 per share.
Like ENIC, these are stocks the Big Money on Wall Street can't touch (yet) … but you and I can, meaning we can capitalize on the potential for massive gains.
Make sure to look at Adam's research here and learn more.
And remember … this might be the only time I ever talk about ENIC, but by joining Adam's 10X Stocks, you're also gaining access to Adam's guidance on these positions, including the best times to buy more shares — or sell for a tidy profit.
Stay Tuned: How Momentum Creates Market-Crushing Opportunities
Tomorrow, Adam is going to walk you through the momentum factor of his proprietary system and show you how it leads to incredible gains in the stock market.
Until then…
Safe trading,

Matt Clark, CMSA®
Chief Research Analyst, Money & Markets