Over the last few weeks, you've read essays from our entire team about what's coming for certain $5 stocks.
That's because, as Adam pointed out here, these small-cap stocks offer tremendous upside investment potential.
And trading these stocks gives us a huge leg up on Big Money investors like Warren Buffett due to a set of arbitrary SEC rules.
The Wall Street machine and its big players — analysts and institutional investors with a lot of cash to throw around — won't even sniff at a stock if it's priced below $5.
So while Wall Street waits on the sidelines, investors like you and me can buy these "golden needles" in the $5 stock haystack before the stock crosses that threshold and the Street's elite jump in.
Adam has culled a list of more than 250 small-cap stocks down to the absolute cream of the crop.
If you want to know how to gain access to his top recommendations, you can watch his brand-new "$5 Stocks Summit" here.
But you may be wondering: What about the stocks that didn't make the cut?
I'll pick one and use our proprietary Stock Power Ratings system to show you exactly why this stock was not one of Adam's final recommendations.
I Just Want My Moo Juice
As a kid, I drank milk every day.
I wasn't concerned with fat or anything else like that.
Getting older, I've become more conscious of what I put in my body.
Of course, that hasn't stopped me from indulging in my favorite greasy hamburger and fries from time to time. But now, I at least try to balance it out by subbing in frozen yogurt for dessert instead of Ben & Jerry's.
And I'm not the only one who's a little more health conscious.
Organic, "healthy" food is more popular now than ever before:
The Business Research Company found the global market value of organic food was $251 billion in 2022. That figure is expected to hit $437 billion by 2026 — a 74% increase in just four years!
One company trying to capitalize on this trend is Swedish-based Oatly Group AB (Nasdaq: OTLY).
OTLY Has Struggled
Founded in 1997, Oatly creates oat-based dairy products, like milk, ice cream and yogurt.
Its products are alternatives for the growing number of people who are vegan, lactose intolerant or just don't like dairy products.
But the biggest problem with Oatly products was that there simply wasn't enough of them.
In 2021, the problems with the oat supply chain pushed consumers to other, more available dairy alternatives.
Then, in August 2022, a voluntary recall over concerns of bacterial contamination hit the company hard.
That sent the stock price into a downward spiral while it also contended with the broader market sell-off.
OTLY's Dismal Stock Power Ratings
Even before issues with its supply chain and concerns surrounding contamination, our proprietary Stock Power Ratings system said OTLY was a stock to avoid: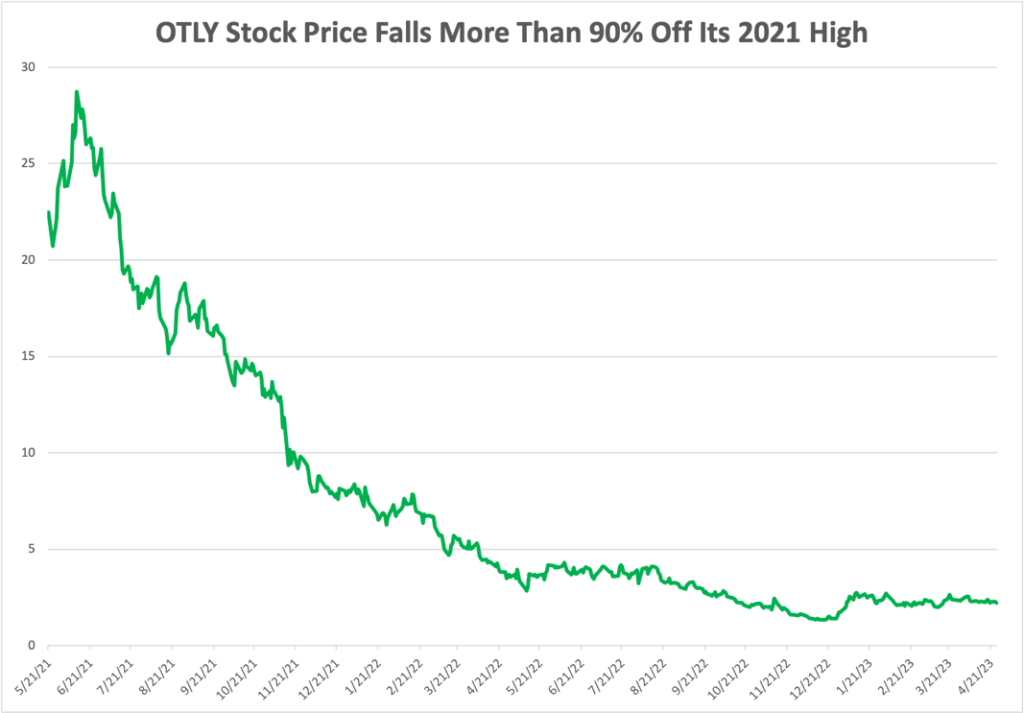 The first chart above shows the price action of OTLY stock. Since hitting a June 2021 high shortly after its initial public offering, the stock has been in freefall — dropping more than 90% from that high.
But it's the second chart that is more interesting. This shows OTLY's historical score on our Stock Power Ratings system.
As you can see, even when the stock was at its high, our system rated it a "High-Risk" investment. It rates an abysmal 7 out of 100 now.
Here are the reasons:
Oatly's one-year earnings-per-share growth rate is -71.9%. Its growth factor score in Stock Power Ratings is 19.
Its net and operating margins are all below the food and beverage producer industry averages (showing balance sheet weakness). That's why it sports an 18 out of 100 on our quality factor.
As the top chart shows, there is a clear lack of upward momentum.
Bottom line: Oatly may have the best intentions of providing a dairy alternative.
And its stock price may, on the surface, make OTLY look like an attractive value investment.
Supply and demand issues along with questions about potential contamination are headwinds that have become too strong against the stock.
Oatly stock was picked up on Adam's original scan of small-cap stocks. It does score a 65 on size in Stock Power Ratings due to its $1.3 billion market cap.
But it was one of the first stocks to get cut from the list due to its poor overall rating and weak scores on momentum, volatility, value, quality and growth.
That's why OTLY is a stock trading under $5 that is one to avoid right now.
Of course, there are "golden needles" in the $5 stock haystack.
Adam has worked hard to identify them. His proprietary system played a part, but he's also found stocks that stand to benefit most from the "$5 rule," an outdated set of guidelines that keeps big institutional money away from stocks trading below that level.
Once these stocks cross that threshold though … all bets are off.
And Adam has a small handful of stocks that he believes can gain 500% or more over the next year once that happens.
Click here to watch his "$5 Stock Summit" and see why these small-cap stocks are where you want to be putting your money right now.
Stay Tuned: A $5 Stock Worth Another Look
On Monday, I'm going to show you a stock that's trading below $5 that deserves a closer look.
I'll use Stock Power Ratings to analyze its potential from here.
Of course, this stock looks like a solid investment, but for the absolute best — the $5 stocks that Adam believes can soar 500% over the next year — you need to check out his new presentation.
He'll show you why these small caps are where you want to be as bearish market sentiment continues.
I encourage you to block out a little time and let Adam walk you through what's going on. Click here to see what he has to say.
Until then…
Safe trading,

Matt Clark, CMSA®
Chief Research Analyst, Money & Markets