In December 2020, I talked about a popular food delivery service stock on the verge of launching its initial public offering (IPO).
I'm hesitant to buy into IPOs on launch because the trend is for the stock to pop during the initial fervor, then fall dramatically.
I saw that happening with DoorDash Inc. (NYSE: DASH).
In my video, I told you to steer clear of the stock because it wasn't profitable.
Nothing has changed more than two years later. DASH remains a stock to avoid.
DASH Stock Pops … Then Falls to Earth
A quick look at our Stock Power Ratings system helps you see the real picture of a company.
DoorDash started in 2013 as an online platform providing food delivery services across the U.S.
Independent drivers — like you and me — earn extra cash by delivering groceries and food.
DASH climbed 32.2% higher from its IPO in December 2020 to November 2021.
But DoorDash stock has fallen back to reality … hard.
And that's reflected in its Stock Power Ratings…
DASH stock scores a "High-Risk" 2 out of 100 on our Stock Power Ratings system. We expect it to underperform the broader market over the next 12 months.
DoorDash Stock: Red Across the Board
Here is where I usually tell you about impressive company milestones.
Not so much for DASH:
In its recent quarterly report, the company reported a net loss of $296 million — widening its loss by 12.5% from the previous quarter!
Its gross margin fell from 52.2% in the third quarter of 2021 to 42% in the third quarter of 2022.
That shows why DASH scores a 24 on growth.
It also scores in the red on our value and quality factors.
DoorDash has negative price to earnings, meaning it's not generating any profit. It scores a dismal 33 on value.
The company has a miserable return on equity of negative 15.3% and a return on investment of negative 14.2%, earning it a 39 on quality.
All of this tells us the stock is not profitable and is experiencing only small growth.
DASH stock has had a rough 12 months, falling 48.2% Its share price is almost 70% below its IPO price in 2020.
The hospitality services sector has dropped 1.3% in the last 12 months: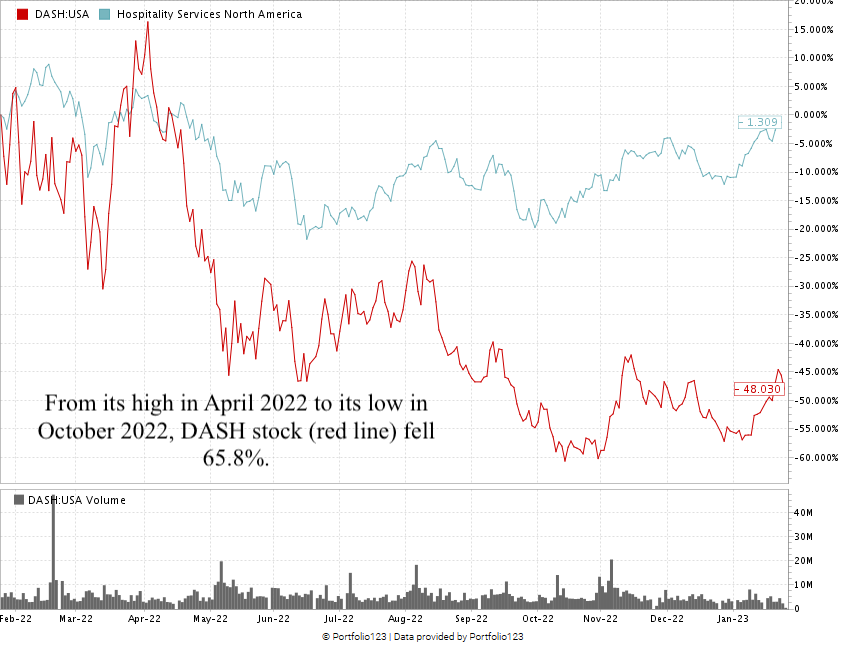 DASH stock scores a 2 out of 100 on our proprietary Stock Power Ratings system.
That means we consider it "High-Risk" and expect it to underperform the broader market.
While food delivery services remain popular in the U.S., our Stock Power Ratings system shows you that certain stocks in the sector are not.
DoorDash is hampered by poor financials … which isn't likely to change anytime soon.
That's what makes DoorDash stock one to avoid for your portfolio.
Stay Tuned: What's Next for the AI Mega Trend
I'm switching it up a bit in tomorrow's Stock Power Daily.
With the market in flux, and tech stocks experiencing a bit of a resurgence to start 2023, I want to highlight what's next for the AI mega trend and your best ways to follow it as an investor.
Stay tuned…
Safe trading,

Matt Clark, CMSA®
Research Analyst, Money & Markets
P.S. I'd love to hear what you thought about my "Stock to Avoid" article today. Was it valuable? Would you like us to continue sharing high-risk stocks on occasion, so you know what to stay away from?
Would you prefer that we only share "Bullish" and "Strong Bullish" stocks?