I admit, I'm not much of a do-it-yourselfer. You won't see me waltzing the aisles at Home Depot.
Sure, I've got the basics covered, but I'm not building a deck or remodeling a bathroom anytime soon.
During the COVID-19 pandemic, when millions of Americans were mostly keeping to themselves, the DIY boom took off.
With nowhere to go, what else were you going to do?
But now the world has opened back up, giving us more ways to spend our free time.
Not to mention, after a long period of high inflation and increased demand, material costs have soared beyond pre-COVID levels.
Today, I'm going to examine the DIY trend and use our Green Zone Power Ratings system to dive into a DIY stock. This company just provided guidance suggesting tough times ahead for the broader sector.
Waning Strength in DIY…
From 2018 to 2021, retail stores focused on DIY did well. DIY and hardware store revenue climbed 11.7% between those years:
That's due in large part to people tackling more projects because they couldn't go anywhere.
In 2022, sales dropped off, but Statista Market Insights projects steady gains in the market through 2028.
However, a return to normal coupled with the higher cost of materials has slowed the pace down a bit.
High inflation has Americans choosing between buying food for dinner or lumber to build a deck.
Most are postponing those DIY dreams as prices remain high.
One company's recent DIY spending forecast suggests the interest in the market will continue to subside.
Trouble for Home Depot Stock
One of the leading suppliers of materials for DIY projects is Home Depot Inc. (NYSE: HD).
The retailer operates more than 2,300 stores in all 50 states, 10 Canadian provinces and Mexico.
But its recent quarterly report is a grim message for the broader DIY market:
Net sales were $37.3 billion — a 4.2% drop from the same period a year ago.
Gross profit was $12.6 billion — down 4.5% from last year.
Even more stark was its forward guidance.
Home Depot executives said annual sales will decline by 2% to 5% compared to last year and its earnings per share will fall between 7% and 13%.
And that's reflected in HD stock's Green Zone Power Ratings…
HD stock rates a "Neutral" 55 on our Green Zone Power Ratings system. That means we expect the stock to perform in line with the broader market over the next 12 months.
It rates low on our value factor (37), meaning its price-to ratios are higher than the industry average.
And you can see how its volatility score of 58 has played out in its stock price.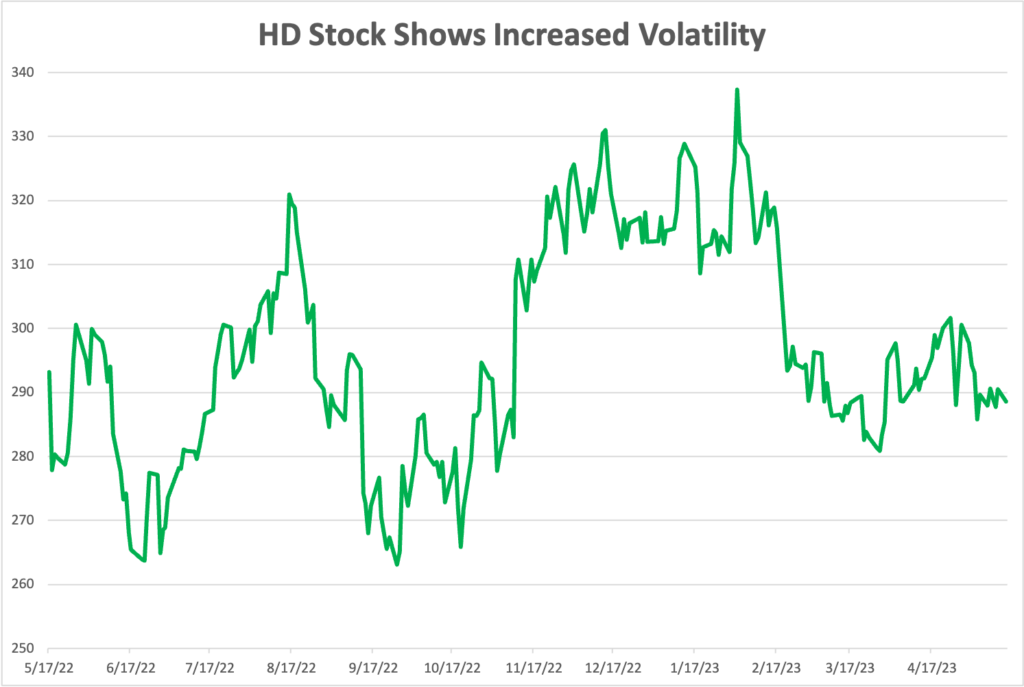 More telling is the fact that the stock has barely cracked into the "Bullish" zone over the last 12 months. In fact, Home Depot stock has rated "Bullish" for only four of the last 52 weeks.

That tells me this stock is one to watch rather than buy. I'm interested to see where Home Depot stock goes from here as we get a clearer picture on the state of the economy and the chance of recession.
Bottom line: If Home Depot's forecast and slowdown in DIY spending are any indications, you'd do well to sit on the sidelines with HD stock.
Stay Tuned: Start With What You Know
Tomorrow, our managing editor, Chad, is going to show you a good starting point if you've been wanting to see how more stocks stack up in our Green Zone Power Ratings system.
It's all about what you know…
Until then…
Safe trading,

Matt Clark, CMSA®
Chief Research Analyst, Money & Markets