Editor's Note: You may notice a minor change in today's Stock Power Daily. Adam O'Dell's Stock Power Ratings system is now called Green Zone Power Ratings. It's the same incredible system that helps you find outperforming stocks — just with a shiny new title. Read on to see what it says about XLRE and real estate stocks…
---
My friend, Josh, once told me that if I wanted to get rich quick and retire early, I needed to invest in real estate.
"Passive income," he said.
But I couldn't get the thought of having to fix everything and handling tenants out of my head.
Needless to say, I didn't take Josh's advice … and I'm glad.
To be fair, real estate had a strong resurgence coming out of the coronacrash of 2020 thanks to near zero interest rates. Pair that with people fleeing cities to opt for remote work in cheaper areas and you had a more lucrative buying environment than even before the crash.
And real estate stocks rode those tailwinds to incredible outperformance:
The Real Estate Select Sector SPDR ETF (NYSE: XLRE) more than doubled from its March 2020 low to a December 2021 high!
The exchange-traded fund (ETF) holds large property managers and real estate investment trusts (REITs).
But times have changed. We're trudging through a bear market and interest rates are now sky-high compared to where they were in March 2020.
Using our proprietary Green Zone Power Ratings system, I'll show you what's happened to real estate stocks and see if this is a sector worth investing in as 2023 continues.
Real Estate Cools Off
Now, I know that becoming a landlord isn't the only way to profit from the real estate market.
Investing in stocks related to home building, property management and even REITs would have turned into some nice gains. And I've written about the potential for certain corners of the housing market recently.
But the broader real estate sector is hurting.
While low interest rates buoyed the real estate market coming out of the crash, inflation has pushed those rates to 15-year highs.
According to the National Association of Realtors, existing home sales dropped 2.4% in March because people can't afford what's available, and those who are contemplating selling don't want to because they face the same interest rate trap as everyone else.
Now look at XLRE since it topped out in December 2021:
The ETF has lost more than a quarter of its value!
Higher interest rates have hammered the market. So too has the growing number of vacant office spaces.
Since COVID-19, more Americans are working remotely and property managers can't find businesses to rent out vacant office space.
And it's adding more pressure to the broader real estate sector. Let's dive deeper.
I'll use our Green Zone Power Ratings system to show the real picture of the real estate market.
Deep Dive Into XLRE
I've mentioned in previous essays that an ETF with a poor rating isn't always chock full of bad stocks.
So I tested that idea with XLRE.
I X-rayed all 30 stocks in the ETF to find their individual ratings and get a more comprehensive picture of real estate stocks.
XLRE Rates "Bearish" Overall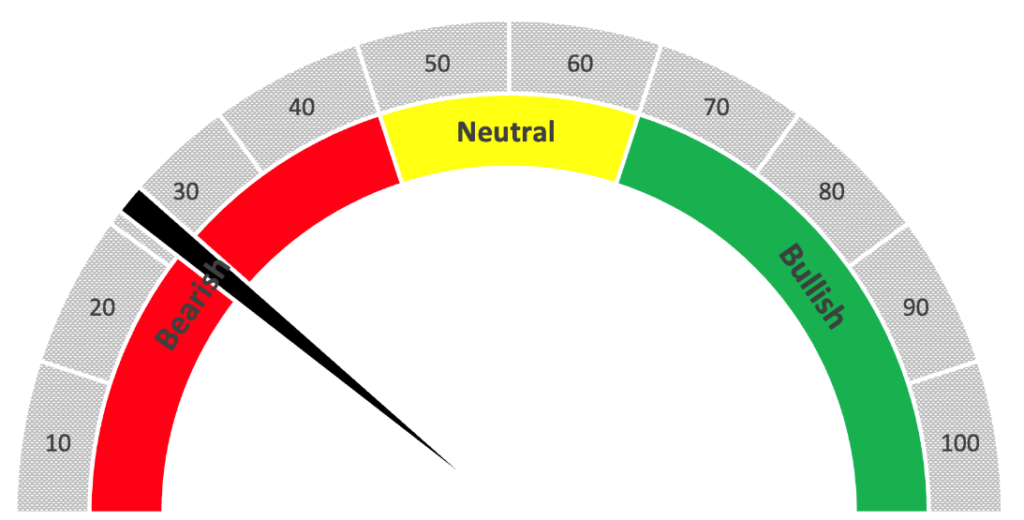 Taking the average of all 30 stocks, XLRE scores a "Bearish" 21 on our Green Zone Power Ratings system. It means we expect the ETF to underperform the broader market over the next 12 months.
That tells me the sector is facing headwinds that may be too much to overcome in the shorter term.
Going a step further, here's how the individual stocks shook out:
Of the 30 stocks within in the fund, 26 scored "Bearish" or lower.
Only one stock scored above 50.
Five stocks scored below 10 — making them "High-Risk" stocks.
Usually we can find a bright spot when doing these ETF X-rays, but that isn't the case with XLRE right now.
Bottom line: The real estate sector has cooled significantly since reaching 2021 highs.
The longer we have high interest rates and inflationary economic conditions, the longer the broader sector is going to struggle.
Our Green Zone Power Ratings system shows that most major stocks in the sector are due to underperform from here.
Stay Tuned: What Green Zone Power Ratings Says About AI Stocks
Tomorrow, our managing editor, Chad, is going to show you what Green Zone Power Ratings says about certain stocks related to artificial intelligence as this innovative tech continues to dominate headlines.
Stay tuned…
Safe trading,

Matt Clark, CMSA®
Chief Research Analyst, Money & Markets