Market volatility is back in a big way.
With the financial sector up in arms after Silicon Valley Bank's rout, twitchy investors are reacting to any news on regional banks and the Federal Reserve's response.
It's created a market that is up big one day and crashing hard the next. And that's not even accounting for the broader bear market that we've been in for more than a year now.
This is where it pays (literally) to have a system that serves as a guiding light.
Our proprietary Stock Power Ratings system cuts through all of the noise of market headlines to pinpoint the best investments … and those you should stay away from.
I use this system every day. It's at the core of my Stock Power Daily research.
And today, I'm going to highlight some of the stocks I've talked about in the last year to show you that it works.
Our System Found Market-Crushing Stocks
When looking for stocks to recommend, I want to see three things:
A strong overall Stock Power Ratings score.
A confirmed uptrend, aka momentum.
A stock that rates well on our three fundamental factors (value, quality and growth).
I believe this provides the best of the best when it comes to potential investments.
Here are two stocks that checked those boxes when I recommended them and have crushed the market, despite broader volatility.
Perion Network Stock (PERI)
Perion Network Ltd. (Nasdaq: PERI) helps businesses monetize their digital content (aka make money from a website or smartphone app).
When I told you about PERI in May 2022, the stock rated a 96 out of 100 on our Stock Power Ratings system.
It scored high on all three of our fundamental factors and showed strong signs of a breakout.
Since May, PERI has soared 85.8% while the S&P 500 has lost 2.7%:
What's more, the overall rating of the stock has moved up to 98 meaning we remain "Strong Bullish" and expect it to outperform the broader market by 3X over the next 12 months.
I'm confident that PERI has even more room to run.
Preformed Line Products Stock (PLPC)
In late September 2022, folks here in South Florida were reminded of the sheer power of Mother Nature.
Hurricane Ian crushed communities along the Gulf Coast … except for one.
The town of Babcock Ranch sustained the brunt of Ian because its all-solar infrastructure includes underground power and internet lines.
A week after Ian subsided, the Stock Power Ratings system pointed me to a company that produces above- and below-ground power and internet lines with a ton of upside potential: Preformed Line Products Co. (Nasdaq: PLPC).
At the time I told you about PLPC, the stock scored a perfect 100 on our Stock Power Ratings System — with strong momentum, growth and value.
Since then, it's been on a tear … rising 63.5% compared to the S&P 500's modest 7.8% gain over the same time: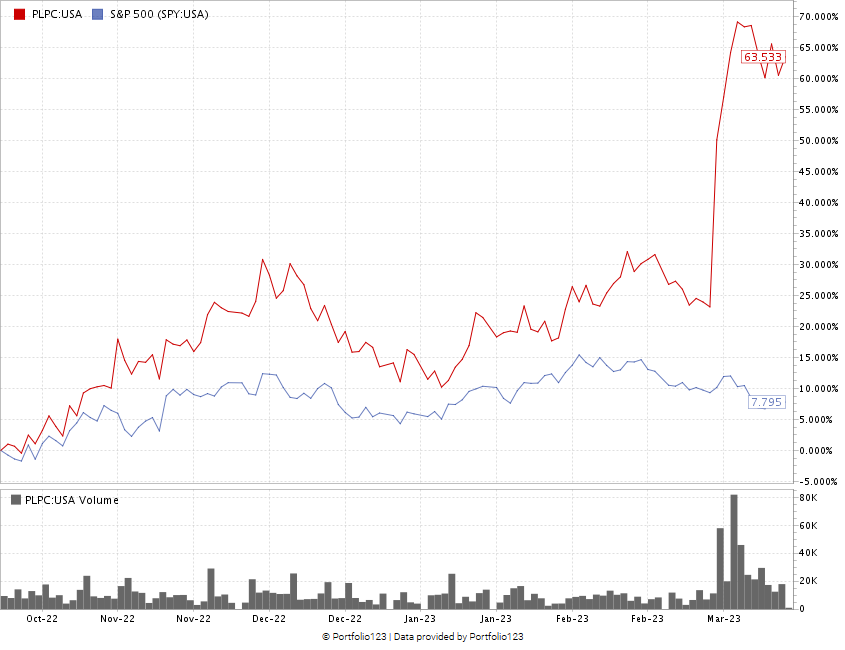 And, like PERI, Preformed Line stock has maintained a high rating on our system … holding at a "Strong Bullish" 100.
How We Avoided the BBBY Bomb
Part of the awesome utility of the Stock Power Ratings system is that it not only finds strong investment opportunities, but also stocks to stay away from.
In September 2022, I looked into big-box retailer Bed Bath and Beyond Inc. (Nasdaq: BBBY).
This huge brand made a name for itself selling home furnishings, such as bedsheets, bath towels and coffee makers.
But it has struggled to turn solid profits amid stiff competition and the rise of e-commerce. Now, it's at high risk of bankruptcy and is closing more than 230 stores in an effort to survive.
Retail investors pushed the stock higher in early 2022 with a short squeeze. But the Stock Power Ratings system told us investing in the company was risky.
And it was spot on.
At the time I told you about BBBY, it rated a "High-Risk" 8 out of 100, meaning we expected it to underperform the broader market over the next 12 months.
Since then, the stock has nosedived 87.7%:
Heeding the Stock Power Ratings system would have prevented you from making a massive mistake with BBBY.
Bottom line: Congratulations are in order if you bought into PERI and PLPC — as well as if you avoided BBBY — when I told you about them.
Not to put too fine of a point on it, but the Stock Power Ratings system is there to help you stay away from those risky investments as well as to find the best potential opportunities on the market.
And I'm excited to feature more stocks like these in Stock Power Daily as 2023 continues.
Stay Tuned: A Special Treat for Stock Power Daily Readers
Next week, we're doing something a little different.
You've seen Senior Technical Analyst Mike Carr in Stock Power Daily. He has a knack for looking at any chart and telling you what it means in the grand scheme of things.
On Monday, I'll introduce you to Mike, before turning Stock Power Daily over to him for the week so you can get to know him and his methodology better.
I promise you don't want to miss a single day.
Until then…

Safe trading,
Matt Clark, CMSA®
Research Analyst, Money & Markets